---
"It is Essential to be There" draws from the archives to look at Bawa's practice
---
By Tania de Silva
---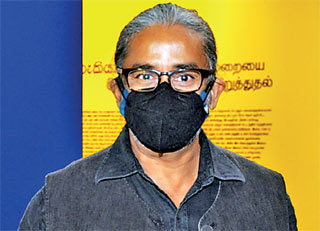 Geoffrey Bawa Trust Chairperson Arch. Channa Daswatte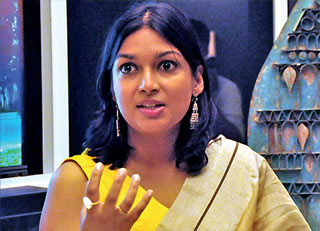 The Lumuganga Trust Curator of Art and Archival Collections Shayari de Silva
---
"The site gives the most powerful push to a design along with the brief. Without seeing the site, I cannot work. It is essential to be there. After two hours on the site, I have a mental picture of what will be there and how the site will change and the picture does not change," said Geoffrey Bawa in 1998 in an interview with Channa Daswatte, the chairperson, Geoffrey Bawa Trust, at present.

The world-famous Sri Lankan architect Geoffrey Bawa is regarded as having been one of the most important and influential in the 20th century. His oeuvre includes hotels, houses, schools and universities, factories, offices, numerous public buildings as well as the new Sri Lankan Parliament. Bawa's work is characterised by sensitivity to site and context. His work is instinctively, rather than self-consciously, sustainable.

Paying a fitting tribute to his excellence, "Geoffrey Bawa: It is Essential to be There", the first major exhibition, is now on at The Stables, Park Street Mews from 11 a.m. to 7 p.m. The showcase will go on till 3 April. It draws from the archives to look at Bawa's practice. Organised in four thematic sections, exploring relationships between ideas, drawings, buildings and places, the exhibition explores the different ways in which images were used in Bawa's practice. Also, the exhibition is free and open to all and it is presented in English, Sinhala as well as Tamil.

Although Bawa's work has been exhibited at multiple venues in the UK, USA, Australia, India, Brazil, Singapore and Germany, this is the first exhibition on Bawa's work to be shown in Sri Lanka. The exhibition is curated by the Geoffrey Bawa Trust. Over 120 documents from the Bawa archives, most of which have never been shown publicly previously, will be on view, including a section on unbuilt work and Bawa's own photographs from his travels.

In order to make this exhibition a success, it has received generous financial support from primary partner Kohler, local partners Nations Trust Private Banking, Crystal Property Group, JAT Holdings and venue partner, Park Street Mews. More information on the exhibition can be found at https://bawaexhibition.com/.
---
Pix by Lasantha Kumara
---