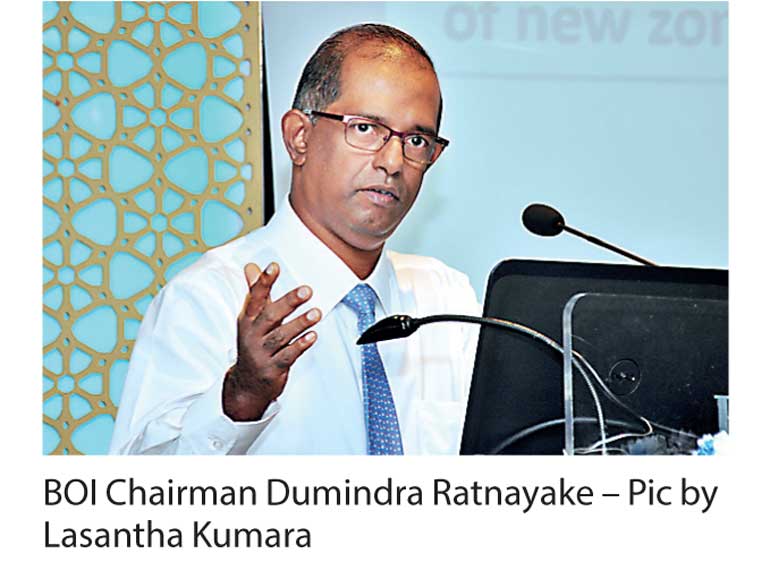 By Charumini de Silva

The Board of Investment (BOI) yesterday revealed Foreign Direct Investments (FDIs) this year would double to $ 1.5 billion from last year whilst expressing confidence of a $ 5 billion figure by 2020.

This optimism was expressed by Chairman Dumindra Ratnayake, who said a host of initiatives were ongoing to boost FDIs with the BOI transitioning to an investment facilitator rather than a regulator.

"At present total FDIs for 2017 amount to $ 1 billion, which will reach $ 1.5 billion by the end of this year with a few projects in the pipeline," Ratnayake told a breakfast forum organised by the Ceylon Chamber of Commerce yesterday.

"This year we have been lucky for some reason. The majority of these investments are coming from existing investors expanding their capacities and reinvesting in new areas. By end of the year we will reach a target of $ 1.5 billion and thereon reach $ 5 billion by 2020," he said.

He emphasised that these FDIs were all realised investments and not committed investments.

"Although they may not be some major brands, what's needed right now are solid investments. We welcome the big names too," he added.

Noting that people of late saw the BOI not as a facilitator of investment but a regulator, he pointed out that the BOI was contributing to over 70% of the country's total exports, where more than 85% were industrial exports. "The contribution that the BOI makes to our GDP is not known and felt."
Outlining the FDI trends in 2017, he noted that vigorous investment facilitation, ironing out various bottlenecks that hampered the realisation of investments, the withdrawal of land lease tax and the introduction of online submission of FDI survey were key reasons for the increased investments.

Ratnayake said the BOI would engage in road shows across China, Japan, India and Europe next year to have targeted discussions with potential investors.

The BOI chief commended the high-powered committees, including the Single Window Investment Approval Committee (SWIAC), Investment Approval Facilitation Committee (IAFC), Official Committee on Economic Management (OCEM) and Cabinet Committee on Economic Management (CCEM) for facilitating investment approvals.

According to him, the Government has identified Kilinochchi, Kallady, Bingiriya, Iranawila, Kuliyapitiya, Mawathagama, Valaichchanai, Eravur, Salawa, Milleniya and Matara to develop new industrial parks in a public-private partnership (PPP) model to build and operate.

"We are focusing on the development of a PPP model to encourage third parties to invest in the development, management and operation of zones. This will enable an opportunity to share the cost, jointly attract investors and allow the BOI to focus more on investment attraction and facilitation," he added.

Highlighting that the BOI signed a letter of intent (LoI) with Rojana Industrial Park Ltd. in August 2017, he said they were in the process of looking at a similar opportunity in Bingiriya where Government to Government (G2G) discussions are taking place.

Providing a progress summary of the projects, Ratnayake said a total of 22 companies had approached where four projects have been approved, while one project was to be submitted and one project has been forwarded to IAFC/OCEM.

In addition, three other projects are awaiting application, 10 projects are being forwarded for a project proposal and three projects are at an initial stage.

The BOI Chief acknowledged that the technical support from Harvard, World Bank and McKinsey as well as high-level committees provided support with administrative procedures and their impact.

It was pointed out that the Harvard Centre for International Development's Problem-Driven Iterative Adaptation (PDIA) included four teams in the identification of target sectors, resolving bottlenecks for investments, identification of lands for new zones development and investment engagement with anchor investors.

He said the Technical Cooperation from McKinsey Consultants developed a project template, which facilitated the screening and evaluation of investors to identify the right investors and drop investors that were not credible. "We have a whole load of dubious investors who do come in for money laundering intentions to whatever. This is a major challenge. It is important that we leave them out and bring in the right people."

He stressed this also helped the BOI's investor screening process, enabling its officers to spend more time on workable projects.