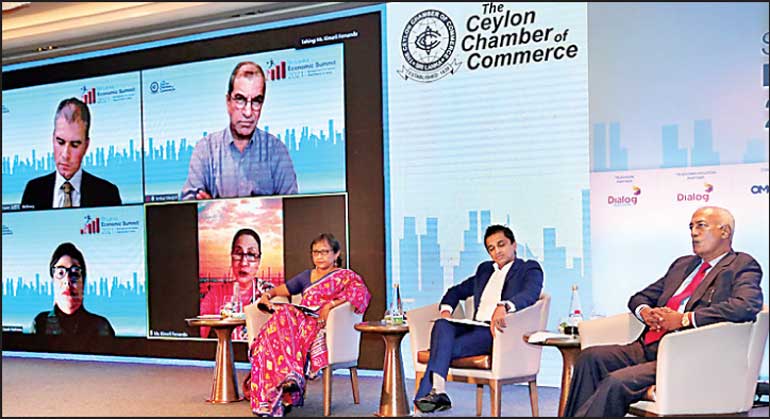 ---
By Charumini de Silva
---
Top experts in the travel trade on Tuesday emphasised the need for Sri Lanka to look at post-pandemic tourism opportunities differently, pointing out that consumers have more savings than before and different priorities on what to spend on during their holidays.

These recommendations were shared by experts during a session titled, 'Survival to recovery: Reviving tourism inflows,' on the second day of the Ceylon Chamber of Commerce Economic Summit moderated by Jetwing Travels Managing Director Shiromal Cooray.

"Sri Lanka should start looking from the eyes of the tourists," Emirates Area Manager for Sri Lanka and Maldives Chandana de Silva said.

He pointed out that Dubai was a great example of how to execute a post-pandemic tourism revival strategy.

"In Dubai, a large number of tourists are going for business and leisure. We must also look at strategies where Sri Lanka can attract such a tourism mix at the same time in a seven-to-10-day holiday period," he said.

De Silva also said the airline was committed to bringing passengers to Sri Lanka and underscored that it operates 21 flights a week at present with plans in the pipeline for more in the future.

TripAdvisor Group Head of Media Partnerships APAC Sarah Mathews said Sri Lanka should focus on addressing the needs of the new demographics, particularly luxury millennials.

"Travellers are confused given different health and safety protocols in the West and the East. For example, the use of masks. It is important to be simple and transparent," she added.

Mathews also said efficient and wise use of data would help navigate through the post-pandemic recovery.

eMarketingEye CEO Rajitha Dahanayake pointed out that consumers have become quite tech-savvy post-pandemic, consuming ever more data. Travel companies, particularly the hotels, must up their game with robust digital strategies, he stressed.

"We are more comfortable with commissions, but hotels need to get out of it and invest in proper campaigns," he added, noting that Maldives was an excellent example for having pursued that strategy.

Dahanayake also said Sri Lanka needs to focus on experience rather than price.

"The Maldives has sun and sand, but they ensure a unique experience for their travellers. Sri Lanka has a whole lot more to offer in a compact package and we should strategize on the experience element."

Thailand Travel Impact Newswire Executive Editor Imtiaz Muqbil said Sri Lanka needed to step up its game when it came to branding and creating a sustainable operational environment.

"Sri Lanka has the best offerings to a traveller in the Asian market. However, we prefer to treat the symptoms rather than the cause. We should not go to the same levels – where we go after numbers – but address the root causes in the operating environment where peace dividends are actually enjoyed by all," he asserted.

Muqbil also suggested that Sri Lanka should capitalise on its world-renowned cricketers for tourism promotion activities.