Accuses Govt. of burdening people with taxes instead of managing State assets intelligently
Says an economy cannot sustain itself on taxes levied on low-income earners
Claims better management and higher returns on public assets will permit reduction of taxes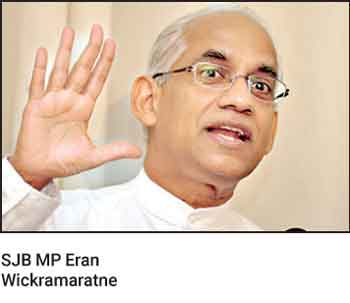 Samagi Jana Balawegaya (SJB) MP Eran Wickramaratne on Sunday claimed a future SJB Government led by Sajith Premadasa will not only reform State enterprises but will also manage public assets in a manner that will generate an income.

Addressing a press conference in Colombo, the MP criticised the Government for its lack of intelligent management of public assets and accused it of burdening the people with heavy taxes, which has resulted in a mass exodus of professionals and academics from the country.

He pointed out that the proposed tax on EPF was higher than that on the corporate sector, emphasising that the tax on EPF was much higher than the taxes imposed on businesses, banks, and bond investors.

"The economy of a country cannot sustain itself on such high taxes levied on low-income earners. Better management and higher returns on public assets will permit a reduction in the tax burden," he said.

"Over the years, successive Governments have clung to outdated economic thinking and practices, contributing to the current state of affairs. In the 1970s, Government policy prioritised retaining ownership of public assets, even if they generated no income. Left-wing parties and their Governments have advocated for Government ownership of public assets, a stance that is no longer adhered to, even in socialist economies," he noted.

Commenting on a recent statement made by State Minister of Finance Shehan Semasinghe, in which he acknowledged that the Government should not be involved in running business ventures, Wickramaratne said it took a financial crisis for the Rajapaksas to recognise economic fundamentals.

"It is estimated that there is approximately 60 million tons of fertiliser in the Eppawala phosphate deposit. When plans were brought about for new investment and technology to add value and increase export income, slogans were carried out resisting change. The living conditions of the people in the surrounding villages are still what they used to be many years ago. Illogical economic protests in our country benefit no one," he said.

The MP said if similar opposition arose when oil deposits were discovered in Saudi Arabia in 1938, the Arabs would still be nomads wandering the deserts.

"In the 1970s, when Middle Eastern countries formed OPEC, Sri Lanka was ahead in terms of quality of life. Many countries, including the Middle East, are ahead of us today. They realised that available resources need to be enhanced with new technology and investments from time to time, for the betterment of the people of a nation. Now, our people and professionals are providing skilled labour in those countries instead of their home country," Wickramaratne noted.