Says witch hunt of unprecedented proportions since taking office last November

Says professionals should not be penalised by political opponents when governments change

Police officers handling important cases such as MIG deal investigation being sidelined

Journalists also targeted for doing their jobs

Fears judicial officers who are doing the right thing will be targeted next

Questions silence of peers and professional bodies against this disturbing trend
By Chandani Kirinde
UNP MP Eran Wickramaratne has accused the Government of engaging in a witch hunt against professionals – including lawyers, journalists and Police officers – and expressed fears that judicial officials standing up for what is right could be next in line.
Speaking during the debate on the Airbus bribery scandal in Parliament on Thursday (20 February), Wickramaratne also expressed dismay at the lack of support from the peers of those who are being unfairly targeted by the Government for doing their job.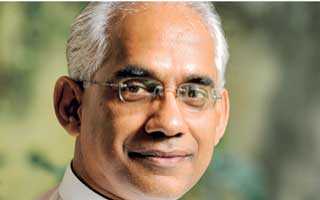 MP Eran Wickramaratne
"We passed the 19th Amendment to bring rigor to key public sector appointments and gave the Opposition a voice in the selection of senior judges and civil servants. Even as a member of the Opposition, I was hopeful that this Government would look forward and not backward, but what we have seen instead is a witch hunt of unprecedented proportions," the UNP MP said. Wickramaratne said that as someone with a long track record in the private sector, many raised concerns when he decided to enter politics because of the risk in reprisals.
"Professionals, lawyers, doctors, journalists, Police officers, accounts, bankers, businesspeople, career diplomats and other civil servants should not be penalised by political opponents when governments change. That is the only way to redeem our country," Wickramaratne said
He said that when the UNP-led Government took office in 2015, it tried to do things differently by allowing many professionals to remain in their posts and not hounded out. These, he said, included the heads of Military Intelligence and the State Intelligence Service (SIS) and the heads of the Criminal Investigation Department (CID)," he said.
As an example, Wickramaratne cited the case of the CID Head Senior DlG Ravi Seneviratne, who was appointed in 2012 during Mahinda Rajapaksa's administration and retired in December 2019 under President Gotabaya Rajapaksa. "In comparison," he said, "the day after President Gotabaya Rajapaksa assumed duties on 19 November, the first thing he did was remove CID Director Shani Abeysekara, demote him to personal assistant, and transfer him to Galle."
Wickramaratne said the Government has transferred out and gone after officers who were involved in investigating the MIG deal, all of whom are experienced and professional Police officers. "Who are these officers? DIG Dhammika Priyantha has a master's degree in criminology and was a former Deputy Director of the CID, in charge of its Financial Crimes Unit. SP Pavithra Dayaratne was a senior SIS Intelligence Officer who specialised in unravelling LTTE finance networks. Chief Inspector Nihal Francis was an expert in the Mutual Legal Assistance system of obtaining evidence from foreign jurisdictions. In the MIG case alone, he secured evidence from the US, UK, British Virgin Islands, Latvia, Hong Kong and Singapore. How does the country benefit by transferring such high calibre and proven officers to places like the Kilinochchi Traffic Division and Miscellaneous Crimes Branch?" he inquired.
The UNP MP added that these officers are being replaced by people who were removed previously over disciplinary issues, and cast doubts on the kind of investigations they are conducting now.
"Take the Swiss Embassy case, for example. When the CID was called upon to investigate, we hoped for a fair inquiry. But within weeks, they turned the investigation into a baseless political witch hunt, alleging with innuendo that the alleged abduction of the Swiss Embassy employee was fabricated by three professionals with impeccable reputations who have come into the Government's crosshairs for retribution. The CID and the Government want us to believe that former Sunday Observer Editor and New York Time Journalist Dharisha Bastians, former CID Director Shani Abeysekara, and former Lake House and Hilton Chairman, and a former UNP working committee member Krishantha Cooray all got together to mastermind a fictitious abduction. They have said this without a shred of evidence, simply to paint them as villains for not having bowed to their threats and intimidations," Wickramaratne said.
He said the authorities did not stop at that and instead had gone after senior journalist Bastians' telephone records, as well as Cooray's, a very well-known and respected media personality, and used a criminal investigation as an excuse to try and identify their contacts.
"This is the truth. This is the reality. They are checking Dharisha's phone records to check her sources in the CID. They have questioned other journalists and lawyers who worked with her and demanded to know who their sources were in the CID. How can journalist practice their profession if their phone records are checked by the CID at their whim and fancy? If the CID has to check a private citizen's details, they must get a court order," he said.
He said it was obvious the Government is engaged in a political witch hunt as Dharisha Bastians' husband, Gihan Indraguptha, a career diplomat at the Foreign Ministry who was posted to Geneva , Switzerland a few months ago, has been summarily recalled without any explanation or replacement, as a way to put pressure on his wife.
"In doing so, the Government has violated not only Indraguptha's fundamental rights and legitimate expectations as a career officer but is also flouting an ancient foundation of principal that underpins every decent system of law in the world. It's the most fundamental principle of fairness and due process, not a UNP policy or a Pohottuwa policy, that individuals should never, ever be punished for things that they themselves have not or are not accused of having done," he said.
Wickremaratne said it is disturbing that the Government is targeting and persecuting professionals, but this is the lesser crime, as the greater sin is that peers of the persecuted have stood by silently, not rising to the defence of their comrades.
"There was a time in Sri Lanka where even the threat of a government going after a journalist was enough to provoke an outcry in the media, prompting editorials of condemnation, statements by media institutions and even protests. I would like to ask the journalists, are you unprincipled or are you scared? Not a single editorial has been written in any newspaper protesting this witch hunt."
Wickramaratne added that there was a time when the National Police Commission and the IGP would have stood firm against politically motivated transfers and appointments and defended honest Police officers who were persecuted for doing their jobs, and there was a time when the Bar Association of Sri Lanka (BASL) would have risen up in arms if the Government got the CID to summon an attorney-at-law and grilled her about confidential information and journalistic sources. "I would like to ask the President of the Bar Association, don't you care?"
The UNP MP praised Colombo Fort Magistrate Ranga Dissanayake for sticking his neck out and defending professional Police officers responsible for the MIG deal investigation and for Sri Lanka's first-ever successful extradition of a criminal suspect, adding that there are fears now that those who stand between Udayanga Weeratunga and his freedom will be targeted.
"It is high time that all professionals stood up for those who are doing what is right. The only people whose integrity, honesty and professionalism stand between the Government and a cover-up of the MIG Deal are Fort Magistrate Ranga Dissanayake and Attorney General Dappula de Livera. Already it has been reported that moves are underway to pressure the AG, and to transfer or promote Ranga Dissanayake so that a more amenable magistrate could handle Udayanga Weeratunga's case. This House, the constitutional council, the independent media and civil society must stand in solidarity with the Magistrate and the Attorney General, and shield them from undue influence," he said.
Wickramaratne said professionals in this country must stand up for and protect other professionals, ensuring they are allowed to do their jobs with integrity.
"Police officers must stand up for their persecuted colleagues like Shani Abeysekara and Nihal Francis. Journalists must speak out against the pathetic attempt to frame people like Dharisha Bastians over an abduction, merely because she made a telephone call. Career diplomats must stand for solidarity with Gihan Indraguptha, who is being punished for no fault of his own, but a witch hunt against his wife. Lawyers and the Bar Association must object to the harassment and interrogation of journalist Anurangi Singh by the CID. And the Judiciary must stand guard against any attempt to persecute Ranga Dissanayake for having the courage to stand tall and do his job with dignity."
He added that Krishantha Cooray is a capable and a committed man whom he has associated with very closely. "He loves this country and has made huge sacrifices," Wickramaratne said, adding that if they come to power, they will never use the tools in their possession to sling mud at professionals and business people like Susantha Ratnayake, Ashok Pathirage, etc.
"I must again urge professionals who are holding powerful positions to execute their duties professionally and the others to stand up for your peers despite your political differences. If we do not stand by those who do the right thing – those honest, capable and qualified professionals and experts – Sri Lanka's brain drain will be accelerated and not reversed, and over time, we will lose all the people of the calibre we need to develop this country and develop the institutions we need as a nation."