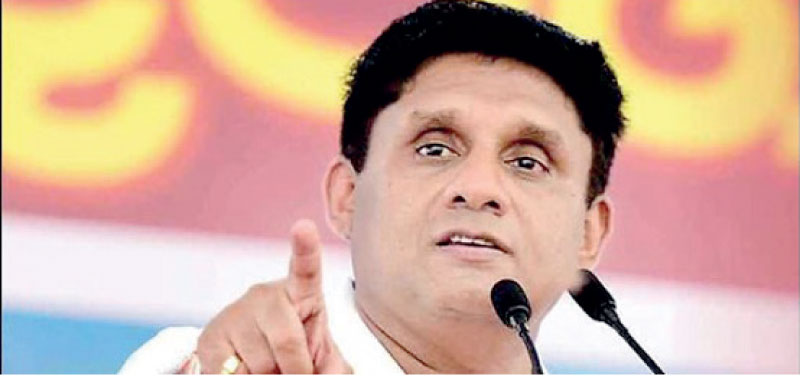 Opposition leader Sajith Premadasa
---
Presents several demands to revitalise struggling industries including garments and construction
Asks Govt. to immediately implement a program to rebuild and develop SMEs
Vehicle importers request support to secure release of 400 vehicles held up in the port
---
Opposition leader Sajith Premadasa and a group of opposition MPs met with a group of entrepreneurs in Parliament yesterday to discuss several grievances raised by them.
According to reports, problems faced by various industries in the country were discussed at length during the meeting. The group of entrepreneurs included those from the tea, tourism and garments sector in the country. The topics of discussion included the many difficulties faced by vehicle importers and leasing related issues faced by businesses. Speaking to the media, Sri Lanka United National Businesses Alliance (SLUNBA) Chairman Tania Abeysundara said the group were not after personal favours. "Instead, this is a request to rebuild the economy," she said.
Entrepreneurs...
Abeysundara noted that the market has shrunk by 50% forcing entrepreneurs to face a plethora of problems. "We were invited by the opposition to discuss our grievances," she said.
SLUNBA Deputy Chairman Susantha Liyanaarachchi blamed the country's rulers and officials for the current economic situation and the collapse of industries. "The joint opposition has requested a debate on our behalf following a discussion on 22 May. The garment industry, SMEs and especially the construction industry have been decimated. One million have been put out on the streets," he claimed.
"We demand that the Government take steps to strengthen the garment industry and revitalise the construction industry. A program to develop SMEs must be implemented," he added. Liyanaarachchi warned of grim prospects if the Government fails to act accordingly.
Vehicle Importers Association Chairman Indika Sampath said businesses have no possibility of commencing business activities once it is shut down in the current scenario. "We do not wish to leave this country. But around 400 vehicles remain held up at the Port for the past two years. Nothing has been done regarding this," he alleged.