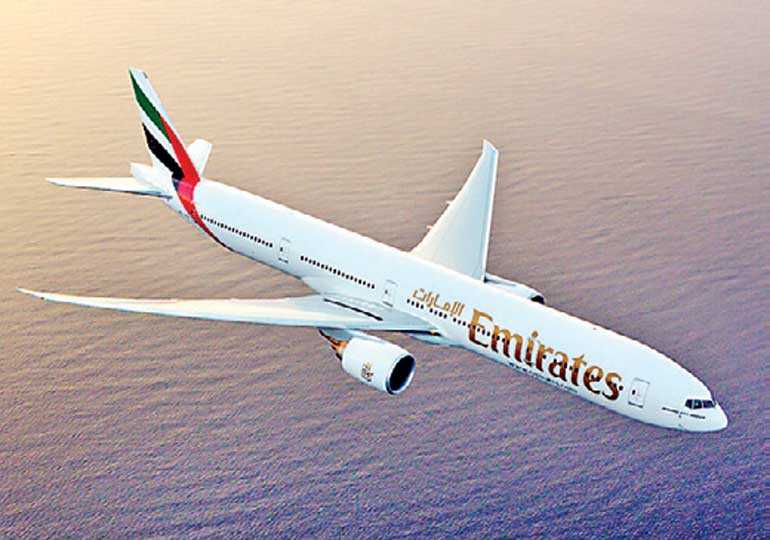 Emirates yesterday announced the launch of outward-bound passenger flights from Sri Lanka, starting Saturday 20 June, to facilitate travel for foreign nationals as well as Sri Lankans who need to return to families, jobs or education overseas.

The airline currently operates passenger flights to 30 destinations with connectivity for cities between Asia, Europe and North America via its home base of Dubai, and expects to expand its reach as countries open up their airports to passenger flights.

From 20 June, Emirates will operate two outbound passenger plus cargo services with Boeing 777-300 aircraft every Saturday and Sunday from the Bandaranaike International Airport (BIA) to Dubai International Airport (DXB). Passengers travelling to the UAE must meet the eligibility requirements specific to UAE residents, and for those transiting through, the entry requirements at their final destinations.

Every Friday and Saturday, Emirates' cargo-only flight EK2528 will arrive in Colombo from Dubai, transporting essential imports into Sri Lanka. The return flight, EK2529 will depart Colombo every Saturday and Sunday at 01:00 hrs and arrive in Dubai at 03:45 hrs, all times local, with a combination of passengers and export cargo. Services in July are subject to Government approval.

"This is welcome news indeed for our longstanding and loyal customers who have been waiting patiently for Emirates to resume services," said Emirates' Area Manager Sri Lanka and Maldives Chandana De Silva. "While scheduled inbound passenger flights remain suspended till the BIA resumes normal operations, these flights are an important first step in that direction. We have implemented enhanced hygiene and safety measures in the air and on the ground, in coordination with the relevant authorities. The safety and wellbeing of our customers, employees and communities remain our top priority."

Emirates has implemented a comprehensive set of measures at every step of the customer journey to ensure the safety of its passengers and employees on the ground and in the air. Aircraft boarding sequence has been staggered in Economy Class with passengers boarding by row, from the last row to the first, in small numbers.

All cabin crew on board are fully kitted out in PPEs. Crew hand out hygiene travel kits that contain masks, gloves, antibacterial wipes and a sanitiser to every passenger. Comfort items such as mattresses, pillows, blankets and headphones are hygienically sealed. Cabin service assistants ensure toilets are cleaned at frequent intervals of every 45 minutes on flights of over 90 minutes. Toilets are equipped with sanitising soap and hand washing instructions.

Emirates' modern aircraft cabins feature advanced HEPA air filters which remove 99.97% of viruses and eliminate dust, allergens and germs from cabin air for a healthier and safer on-board environment. In Dubai, each aircraft goes through enhanced cleaning and disinfection processes after every journey.

Customers transiting through Dubai International airport and boarding another Emirates flight go through thermal screening after disembarkation. Transfer desks at the airport have protective barriers and for extra assistance, airport staff dressed in personal protective equipment (PPE), direct customers from a safe distance.

Customers are reminded that travel restrictions remain in place, and travellers will only be accepted on flights if they comply with the eligibility and entry criteria requirements of their destination countries.

Following the disruption of commercial aviation due to the COVID-19 pandemic, Emirates resumed cargo only flights to Sri Lanka as early as 11 May, to support the efforts of the country's exporters to keep their supply chains open.

Emirates has been serving Colombo, its fourth overseas destination, since 1 April 1986. Before its temporary suspension of passenger flights in response to the threat of the COVID-19 pandemic, Emirates operated four flights a day to and from Colombo, connecting Sri Lanka to a global network of 159 destinations on six continents.