Predicts ASPI will shoot up to 6,500
Although foreign outflows continue, foreign turnover remains above 40%
Says Sri Lanka can be outlier in slow growth global economy
Softlogic expects economic growth to be 2.5% for 2019, 5.1% for 2020 and 6.3% for 2021
By Charumini de Silva

Irrespective of who will win the Presidential Election, the economy will perform better and Sri Lanka will again be in the limelight of local and foreign portfolio managers, a top stockbroker predicted last week.

"Irrespective of who wins the Election out of the two main contenders, the situation of the economy is going to be better than what it is now," Softlogic Capital Markets Chief Executive Officer Danushka Samarasinghe said at an investor forum titled 'Sri Lanka: An Uncut Diamond', held last week in Colombo.

Evaluating how capital market in particular has reacted in and around an election period, he said that activity levels have increased during the month of the Election, and that they were anticipating the ASPI to find its north star metric after the Presidential Election.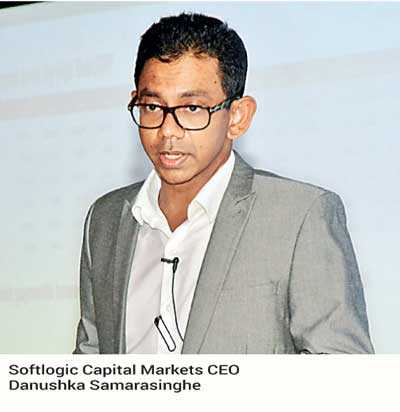 "The average daily turnover during the Election period is higher than the annual average daily turnover. We expect the ASPI, which is averaging around 5,700 levels, will go up to 6,500 soon after the Presidential Polls next month," Samarasinghe said, adding that the projections were made after considering the current movements of the market.

Giving an economic overview, he pointed out that the fiscal discipline came during the past four years at the cost of growth, which was also dragged down by high debt to GDP.

"Policymakers gave a lot of focus on fiscal discipline, which came at a cost of the growth. The taxes basically ate the consumption power," he added.

Debt to GDP, which is around 83%, was a major concern for the investors, he said, adding that they expect it to gradually decline to 75% by 2023. According to him, the trade deficit and debt payments however can be covered by tourism income, remittances, and new debt issuances.

He said Sri Lanka's capital market valuations remain depressed, compared to emerging and frontier markets, with ASPI currently trades at 24.8% discount to its five-year average and 21.3% discount to emerging markets.

Samarasinghe noted that high interest rates contributed to lower interest in equity, while low corporate earnings as well as lower EPF participation too weighed down. "Weak economic conditions, political instability, lack of direction and slowdown in business confidence led to slower earnings growth," he added.

He also said that foreign outflows continued since the constitutional crisis in October 2018, but foreign turnover remained above 40% levels with robust activities.

Although the top 35 large capital stocks contributed to 79% of the drop in market since April last year, he said once there is clear direction and change in the cycle after the Presidential Polls, these will be the first stocks to attract portfolio investments.

In terms of future trends and prospects for Sri Lanka, he said with hard currencies about to enter a weakening stage, risks falling, investors would find Sri Lanka's low valuation attractive among emerging market assets.

"Sri Lanka can be the outlier in a slow growth global economy. We are now entering a cycle where growth wave seems imminent, whereas the rest of the world might slow down. Even though our rates could be sticky domestically, we can still raise money at a cheaper price. Already State sector is seeing some hand-outs which will help drive consumption. With consumption picking up, the corporate earnings will also gradually improve," he stressed.

Samarasinghe said that following Presidential Elections next month and General Elections most probably by February 2020, sentiments would drive the market during this period, and after that Sri Lanka will be again in the limelight of local and foreign portfolio managers.

Considering the overall risks and opportunities ahead of Sri Lanka's economy, Softlogic expects the growth to be 2.5% for 2019, 5.1% for 2020 and 6.3% for 2021.