Expresses confidence on upward trend in 3Q and 4Q of 2023
Assures commitment to further boost construction, food and hospitality industries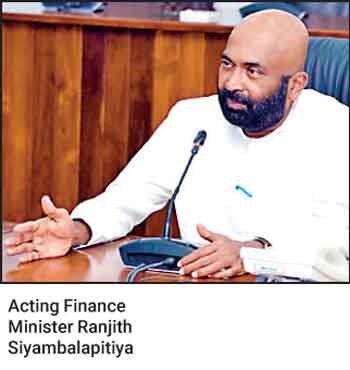 Acting Finance Minister Ranjith Siyambalapitiya said yesterday encouraging economic growth figures for 2023 signal a positive shift compared to the second quarter of the previous year.

He expressed confidence that this upward trend is expected to continue through the third and fourth quarters of the year.
Siyambalapitiya highlighted a notable improvement in economic performance, indicating a shift from the negative growth of 11.5% recorded in the second quarter of 2022 to a more modest negative growth of 3.1% for the same period in 2023. Particularly, the agriculture, hospitality and food sectors emerged as key contributors to this positive trajectory.

However, the Acting Minister cautioned that certain sectors faced challenges. According to the production access report from the Census and Statistics Department for the second quarter of 2023, the industrial sector experienced a negative growth rate of 11.5%, with the construction industry alone registering a substantial negative growth of 23.1%. Similarly, the service sector demonstrated a marginal decline of 0.8%, while the financial sector experienced an 18.8% contraction.

In response to these conditions, he said the Government has implemented a range of strategic measures to boost the construction industry, including a reduction in bank interest rates.

Siyambalapitiya was optimistic that these initiatives will yield positive outcomes in the forthcoming quarters.

He also emphasised the Government's commitment to further develop the food and hospitality sector, which experienced an impressive growth rate of 34.2% with the influx of tourists.