Makes no further announcement on postal vote and LG polls
Govt. Printer says possible to print postal vote ballots within six days if funds are received
PM meets Governors to discuss maintenance of LG bodies after 19 March when their tenure comes to an end
---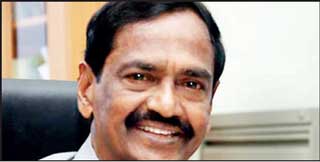 ECSL Chairman Nimal Punchihewa
---
The Election Commission of Sri Lanka (ECSL) has decided to call for a key meeting with the secretaries of accepted political parties at 10 a.m. on 23 March.

The ECSL said the decision to hold a discussion with all political parties was taken at yesterday's Commission meeting.

While it was expected that the ECSL would make an announcement on postal voting and the Local Government election due to the prevailing uncertainty, no such announcement was made following the meeting. Instead, the Commission called on all political parties which have failed to submit their audited party accounts statement for 2021 to do so before 29 March or risk losing their accepted status.

The Treasury is yet to release any funds required for the Local Government election despite repeated requests by the ECSL and the Government Printer.

According to Government Printer Gangani Liyanage, though the postal vote is set to commence on 28 March, the Government Press has not resumed the printing of ballot papers. Currently, only postal ballot papers for 17 out of 25 districts have been printed.

Liyanage has informed the ECSL in writing that the press will be able to complete the printing of materials required for the postal vote within six days of receiving funds and said it will take nearly 30 days to print ballot papers for the main election. However, her requests to the Treasury have gone unanswered.

With the tenure of Local Government bodies coming to an end at midnight on 19 March, Prime Minister Dinesh Gunawardena on Tuesday held a meeting with Governors of all provinces at Temple Trees regarding the future activities and maintenance of the 340 Local Government Institutions. Governors Tikiri Kobbekaduwa (Sabaragamuwa), Admiral of the Fleet Wasantha Karnagoda (North West), M. J. M. Musammil (Uwa), Mahipala Herath (North Central), Willy Gamage (Southern), Lalith U. Gamage (Central), Anuradha Yahampath (Eastern), Marshal of the Air Force Roshan Gunathilake (Western), Jeevan Thyagaraja (Northern), Secretary to the Prime Minister Anura Dissanayake, Public Administration Secretary Neil Hapuhinna and Prime Minister's Legal Adviser Dr. Jayatissa de Costa participated in the discussion.