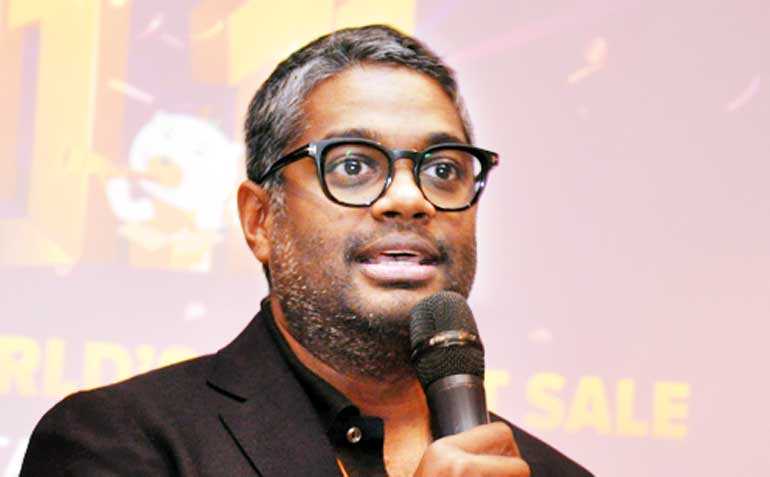 Daraz Managing Director Rakhil Fernando - Pic by Lasantha Kumara
By Charumini de Silva
Leading online store Daraz.lk, which is part of Alibaba Group said on Tuesday that e-commerce in Sri Lanka is growing steadily, but there is a lot more to be improved on, particularly on logistics.

During the three years of its operations in Sri Lanka, the company said it has now reached the full capacity of 200,000 items at its central warehouse located in Kelaniya, and is now in the process of investing in another, while also setting up more last mile mini-hubs around the island nation.

"More and more Sri Lankans are shopping online now. During the last four months alone, our sales have doubled. We have seen a far better trend and growth than we projected. We thought our main warehouse would be enough for at least another year, but it has already reached capacity, and we will now invest on our expansions in the next financial year," Daraz Managing Director Rakhil Fernando told the Daily FT, on the sidelines of the announcement of the second edition of its 11.11 campaign, held on Tuesday in Colombo.

The 11.11 campaign, one of the most anticipated sales in the world, which takes place on 11 November, generates $ 30 billion at its one sale in Alibaba Group, and Sri Lanka's contribution to this last year was around Rs. 400 million.
Daraz reaches capacity, invests in new warehouse and mini-hubs islandwide
Says Alibaba Group confident in SL, invests heavily on people, infrastructure, technology, marketing
Points out logistics a challenge, as infrastructure not geared to service levels required for e-commerce


Accordingly, 70% of their orders are generated from outside Colombo, indicating that it is not solely an urban-centric trend to shop online.

Declining to disclose the investment running into the expansion plan, Fernando said its logistics arm, Daraz Express Colombo (DEX), will create more mini-warehouses or hubs around the country, to further enhance its service offering and strengthen business efficiency. It currently has 18 mini-hubs around the country.

"Alibaba Group is confident in Sri Lanka and has already invested a lot into the market. They started investing from last year, when the head count was only 150 to 200 people, and today we are touching 700 people. The investment runs into millions of dollars on people, resources, infrastructure, technology, and marketing. We are going very long in Sri Lanka. We feel that there is a lot of potential to grow here," he added.

However, he stressed that the key challenge in Sri Lanka is its lack of logistic facilities. "The fulfilment of Sri Lanka's infrastructure is still at a very nascent stage and not geared to the service levels required for e-commerce," he said.

Noting that awareness of online shopping still needs to grow, he said campaigns like 11.11 will undoubtedly help to create that level of awareness, to get people to try shopping online.

"Nobody will want to resist discounts up to 80%, and it is our strategy to attract more people to our platform. We are hoping to double the packages delivered last year to over 250,000. We also see people placing orders for higher-value items such as mobile phones, refrigerators, and other home appliances as well. This is also a testament that brands believe in e-commerce as a channel, and Daraz as one big business driver as well," Fernando stressed.

With the order numbers increasing this year, he said they will probably see an exponential increase in the business they generate as well.