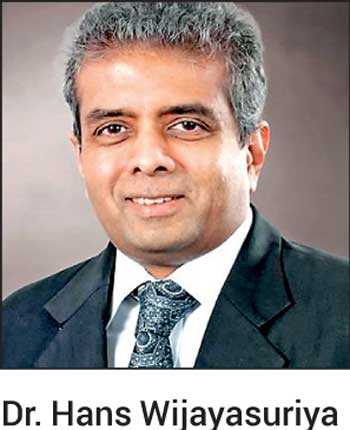 Respected corporate and telco veteran Dr. Hans Wijayasuriya will be delivering the keynote address at the 165th AGM of the Planters' Association of Ceylon which is set to take place on 20 September at the Kings Court of the Cinnamon Lakeside Colombo at 7 p.m.

Serving as the Chairperson of the Ceylon Chamber of Commerce (CCC) since July of this year, Dr. Wijayasuriya made his reputation in the telecommunications industry over a remarkable career that now spans over a quarter of a century, both in Sri Lanka and across several Asian markets.

Prior to taking up regional leadership responsibilities the Group Executive Vice President and Regional CEO for South Asia of the Axiata Group Berhad Malaysia - Asia's second largest telecommunications group, Dr. Wijayasuriya led Dialog Axiata for a period of 19 years.

Founded in 1854 – a full 13 years before the establishment of the first commercial tea plantations in Sri Lanka – the Planters' Association has been a vital contributor to the development of Sri Lanka's plantation sector and the wider national economy for well over one-and-a-half centuries.

Composed of a membership in excess of 180, including 23 Regional Plantation Companies (RPCs), the Planters' Association's membership manages approximately 40% of the country's tea, rubber, palm oil and coconut lands in addition to the management of 332 factories. The sector directly employs nearly 200,000 individuals and when combined with indirect employment, is estimated to provide a livelihood of over one million Sri Lankans across the island.

Among its affiliate bodies, The District Planters' Associations too have played an important role in supporting the development of Plantation Executives through the conducting of regular meetings with eminent guest speakers, particularly in terms of events focused on personal development.

From its inception, the Planters' Association has been at the forefront of numerous vital initiatives relating to development of the country's plantation industry – from contributing approximately one-fourth of the cost of constructing Sri Lanka's hill-country railway systems in 1857 through the imposition of a voluntary CESS to similar measures that led to the country's first-ever tea promotion campaign in 1894 in addition to playing a leading role in the establishment of the Tea Research Institute of Ceylon in 1925.

The Association has also played a crucial role in terms of generating an improved understanding of the present spectrum of challenges The Plantation Management Committee (PMC) of the Planters' Association of Ceylon is comprised of the CEOs of all 21 Regional Plantation Companies (RPCs).

The committee convenes regular meetings in order to identify and address the needs of the plantation industry, and advocate in favour of progressive policies that ensure the continuing viability of the Sri Lankan plantation industry including issues related to wages, productivity, crop diversification and other pertinent agricultural practices and policies while raising awareness on the impact of policies on the industry and its large group of stakeholders.