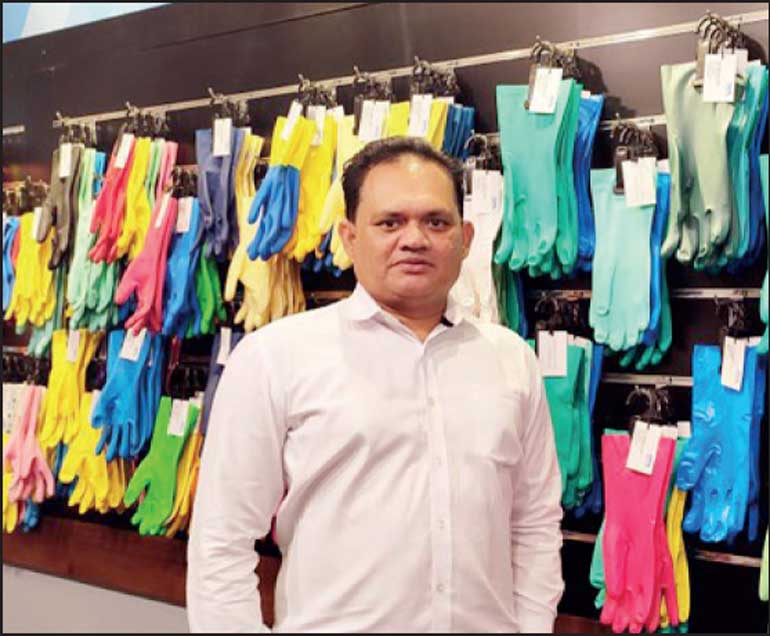 Dipped Products Managing Director Pushpika Janadheera
---
New sports glove plant to strengthen DPL's product offering whilst concerns over SL's export competitiveness mount
DPL to tap prospects in Middle-East, Africa, South America, Asia and Oceania to cushion impact of US, Europe
---
By Rivi Wijesekera
---
Dipped Products PLC, a world-leading manufacturer of rubber gloves with a global market share of 5%, looks to diversify and seek new markets as Sri Lankan exporters face an uphill battle against fiscal austerity measures.

Currently having four glove manufacturing facilities in Sri Lanka and one in Thailand, the fully-owned Hayleys PLC subsidiary, Dipped Products will unveil a new Rs. 1 billion facility at the Biyagama EPZ this April as it ventures into its newest product range, sports gloves. DPL also plans to diversify its markets tapping prospects in the Middle-East, Africa, South America, Asia and Oceania to cushion the impact from traditional buyers in the US and the EU.

Commenting on the repercussions of tax hikes on the export sector from 14% to 30% as well as other cost overruns, Dipped Products Managing Director Pushpika Janadheera, expressed deep concern over Sri Lanka's future export competitiveness, noting that "reinvestment will be curtailed, fewer investors will be attracted, and industries will shift away from exports."

The income tax provision of the group went up over 250% from Rs. 186 million to Rs. 666 million in the December quarter, reflecting the brunt of corporate tax hikes taken by economically important segments such as exports.

Ranked 27th in the Export Development Board's Exporters' Directory of 2021, DPL achieved an export revenue of $ 110 million in the 2020/21 financial year, accounting for 95% of total revenue.
"We're fighting with the rest of the globe," Janadheera said, explaining that as "export and other industries pay the same taxes, there are no incentives for exporters."

The DPL MD also commented on the recent energy price hikes, explaining that while the previous hike in August 2022 brought them on par with Thailand and Malaysia, the most recent electricity hikes this month resulted in an above regional average cost, a development Janadheera described as "hazardous".

"All these will be added to the final price."

In contrast, competitors such as Vietnam and Malaysia have been successfully supporting export-oriented manufacturers over the years, investing in infrastructure, offering tax incentives, and providing financing support. In Vietnam, exports have grown rapidly over the past decade, reaching a record $ 281 billion in 2020, resulting in the nation emerging as one of the fastest-growing economies in Southeast Asia ─ fastest-growing in all of Asia in 2022.

The global economy is also proving to be less than encouraging for Sri Lankan exporters such as DPL, as fears of global recession drive Western governments to tighten monetary policy, causing supply chains to strain.

After a two-year period of Research & Development, as well as an investment of over Rs. 1 billion, DPL's new manufacturing facility is designed specifically for its newest line of hand protection products as it enters the global sports glove market.

Adding to its range of 353 product variants, DPL plans to leverage its 40 years of expertise in R&D to focus on providing specialised products in line with the requirements of potential clients.

Focusing on its strength in North America and Europe where DPL commands roughly 19% and 47% of its distribution respectively, DPL aims to focus on manufacturing for sports considered popular in those markets, such as American football and horseback riding.

Janadheera emphasised DPL's expertise in patented technologies and sustainable processes and their importance in value addition as a Sri Lankan exporter. The glove manufacturer has collaborated with Sri Lankan partners to implement green manufacturing processes in which a 500 ml plastic bottle can be converted into 1 pair of gloves, accounting for around 45-50% of their total production ─ reflection of parent company Hayleys' commitment to environmental responsibility and sustainable practices.

Over the last year, DPL launched numerous projects to reduce waste and increase efficiency, which resulted in over Rs. 300 million in savings.