The important and much-awaited national Digital Economy Strategy is expected to be presented to the Cabinet of Ministers this week, according to Minister Harin Fernando.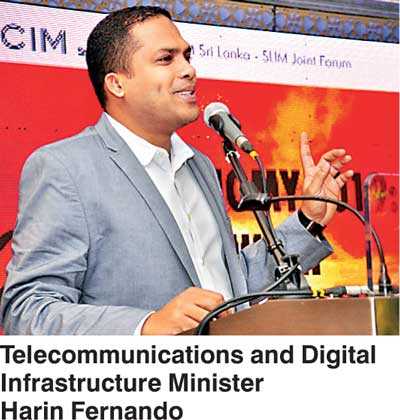 The Strategy has been developed by popular global consulting firm McKenzie and Company, and the initiative is spearheaded by Fernando's Ministry of Digital Infrastructure, Telecom and Foreign Employment and the Ministry of Development Strategies and International Trade held by Malik Samarawickrama.


According to McKinsey the proposed Digital Economy Strategy for Sri Lanka could uplift the country's GDP by 1-3% in 2019. The strategy was originally expected to be ready by April this year but was pushed for July given the need to consult and coordinate with different Ministries and State agencies.



The strategy will enable Sri Lanka to scientifically identify appropriate opportunities for promoting Sri Lanka's digital economy and the key enablers to promote the digital economy as well as initiate three flagship programs that would promote the new policy thrust.


When the move was first announced, the Government said the first phase will focus on the diagnostics to develop an understanding of Sri Lanka's readiness to move into the digital economy. The second phase will concentrate on designing three flagship programs to kick-start the digital economy and ten projects to establish key enablers to support the digital economy. The final phase will focus on launching the identified programs and projects.


This initiative will strategise the promotion of the digital economy through the lens of three economic development thrust sectors; namely, agriculture sector, tourism sector and the manufacturing sector. It is expected that each of the sectors identified above could develop at least one flagship program to support this initial stage of Sri Lanka's Digital Economy Strategy.

Fernando, speaking at the joint CIM Sri Lanka and SLIM forum, said it was high time for the private sector to embrace digital transformation to fully harness the emerging opportunities.


He also said that the public sector has made encouraging progress on its digilisation drive. "Digitalisation will expedite delivery of public service and also save expenditure," Fernando added.

He cited as examples the roll out of 100 MBPS connectivity to all Government offices, digital health initiative – with 60 State hospitals joining the pilot project – and introduction of tabs and digital classrooms in select schools as an experiment. With regard to expanding the latter initiative to all schools, Minister Fernando said a committee has been tasked to make specific recommendations to ensure safe use of tabs by students.