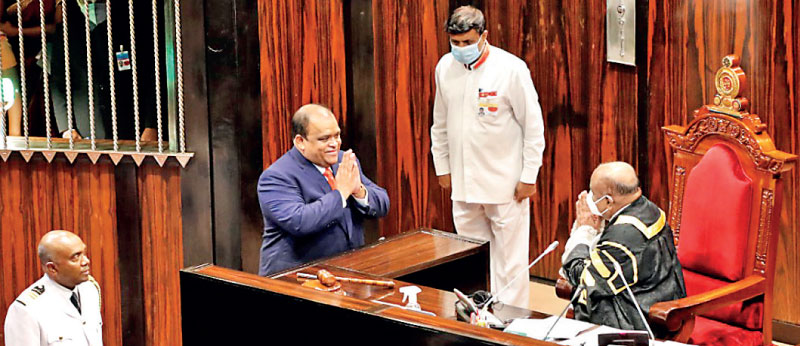 New MP Dhammika Perera greets Speaker Mahinda Yapa Abeywardena after the swearing-in ceremony yesterday
---
Promises positive change and results
Hands over his declaration of assets and liabilities as well as tax clearance report to Speaker
Claims not joining sinking ship but vessel in rough waters
Expresses confidence in creating job opportunities and new ways to generate more foreign exchange
---
Business leader Dhammika Perera yesterday took oath as a Member of Parliament (MP) before Speaker Mahinda Yapa Abeywardena yesterday.

He was appointed to fill the vacancy created following the resignation of SLPP National List MP Basil Rajapaksa.
Prior to his swearing-in, Dhammika handed over his declaration of assets and liabilities and the tax clearance report to the Speaker. This move he described was a sign of fresh change in the political arena in Sri Lanka.

Soon after taking oaths, Dhammika tweeted: "I fully commit myself to serve the citizens of Sri Lanka to overcome the current economic crisis."

Separately speaking to the media on his way out of Parliament, Dhammika said he was not joining a sinking ship but a vessel in rough waters.

He expressed confidence in creating job opportunities and introduce new ways to generate more foreign exchange inflows to overcome the economic crisis. "At a time when people are losing jobs, I have entered Parliament to create job opportunities," he added.

Dhammika, who is tipped to be appointed as the Minister of Technology and Investment Promotion, said: "The key issue to all challenges we face today is the shortage of foreign currency. I hope to present my plan to generate foreign exchange within the next two weeks because I know how to do it."

He also said the reason to enter Parliament was due to provide solutions to the economic crisis and make a change in the country. Noting that he had headed the Board of Investment (BOI) during the civil war in Sri Lanka, Dhammika said he was confident of providing solutions to the current crisis as well.

In response to the objections of many who filed petitions against him entering the Parliament, he said: "Not everyone likes everybody the way they are and I am ready to face any challenges or criticism."

The Supreme Court yesterday dismissed all five Fundamental Rights petitions against the appointment of Dhammika via the National List.

Born on 28 December 1967 in Katukurunda, Kalutara, he is an alumnus of Thakshila College, Horana. He also holds a National Diploma in Technology (NDT) from the University of Moratuwa.

Dhammika is the major shareholder of Sri Lanka's most diversified blue chip Hayleys PLC and investment holding entity Vallibel One PLC among several others. He resigned from the Boards of these and several subsidiary companies recently to take up the National List post.