At 22 with Masters in Mechanical Engineering, she becomes youngest to serve Boards of PLCs
Follows footsteps of father who emerged as biggest investor in listed companies at young age of 33
---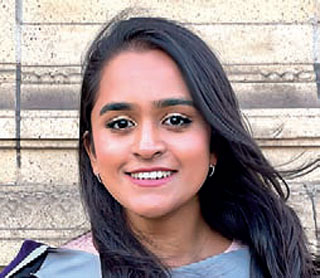 Donna Brindhiini Perera
---
Business leader Dhammika Perera's eldest daughter K.A. Donna Brindhiini Perera was yesterday appointed to the Boards of 10 listed companies, ownership of which is controlled by him.

At 22-years-old, Donna becomes the youngest to serve on listed company boards as a Non-Executive, Non-Independent Director. Her formal entry into the corporate world is akin to following her father's footsteps – he became the biggest investor in listed companies in the early 2000s at the young age of 33.

Donna holds a Masters in Mechanical Engineering from the prestigious Imperial College, London, covering manufacturing technology and management, entrepreneurship, corporate finance, statistics and mathematics.

The companies are the investments holding Vallibel One PLC, Hayley's Group companies Haycarb PLC, Dipped Products PLC, Singer Sri Lanka PLC, The Kingsbury PLC, Hayleys Leisure PLC, and Hayleys Fabric PLC as well as Lanka Walltiles PLC, Lankatiles PLC, and Royal Ceramics PLC.

The Board of these companies had a vacancy following the resignation of Dhammika in June to take up the appointment as a National List MP on 22 July. Dhammika also has two younger daughters.



Dhammika's business empire spans exports, banking and finance, value added agriculture, plantation, manufacturing, tiles and bathware, shipping and logistics, consumer durables, retailing, tourism, leisure and entertainment, healthcare, renewable energy and investments.