Hayleys brings home 12 awards, 9 gold including for Overall Excellence in Financial Reporting
Vallibel Group bags 6 awards including 3 gold awards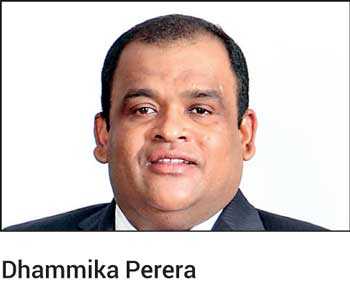 The Hayleys Group and Vallibel Group, owned by renowned Sri Lankan business magnate Dhammika Perera, have clinched the most number of awards at the latest annual reportcompetition, reinforcing their commitment to and excellence in good governance.

Out of the 100 awards presented at CA Sri Lanka's 54th Annual Report Awards on 4 December, Hayleys Plc and Vallibel Group won a total of 18 awards, highlighting their outstanding status in good corporate governance and disclosure compared to other corporates.

Hayleys Group won 12 awards including the gold for Overall Excellence in Financial Reporting whilst Vallibel Group bagged six awards. Vallibel Group is led by Dhammika Perera, who also serves as Co-Chairman of the Hayleys Group with an ownership of 50.44% of its shares.

Commenting on the significance of this year's awards, Perera said: "A strong foundation in financial reporting enables businesses to perform at their peak regardless of external challenges and this has been fundamental to our success. Today is therefore another proud day for both the Hayleys Group and the Vallibel Group, and at this juncture we wish to once again renew the commitment of both of our organisations towards the principles of transparency, accountability and good governance that have powered both of these prestigious conglomerates to the forefront of the Sri Lankan economy."

Hayleys Plc was awarded two more gold awards for its Management Commentary and the category award for Diversified Holdings above 10 subsidiaries. Hayleys subsidiaries Dipped Products Plc and Hayleys Fabric Plc took the gold and silver awards respectively within the category of Manufacturing Companies with turnover of more than Rs. 5 billion while the Group's respected Plantation sector companies - Talawakelle Tea Estates Plc and Kelani Valley Plantations Plc - were crowned gold and silver winners.

Alumex Plc and Regnis (Lanka) Plc were presented with gold and bronze awards in the Manufacturing Companies with turnover up to Rs. 5 billion category.

Singer (Sri Lanka) Plc, the most recently acquired listed company in the Hayleys Group, received a gold award in the Trading Companies category while Singer Finance (Lanka) Plcwas presented with the gold award in the Finance Companies and Leasing Companies category with total assets up to Rs. 20 billion. The group's leading integrated logistics services provider, Hayleys Advantis, was awarded gold in the Service Organisations category.

Vallibel One Group won a total of six awards across the group, including three gold awards awarded to Royal Ceramics Lanka Plc, Lanka Walltiles Plc and LB Finance Plc in the categories of Manufacturing Companies with turnover above Rs. 5 billion, Manufacturing Companies with turnover up to Rs. 5 billion and Finance Companies & Leasing Companies with total assets above Rs. 20 billion respectively. LB Finance Plc was also awarded silver for Integrated Reporting - Best Disclosure on Capital Management while Lanka Tiles Plc, won the Bronze Awards in the Manufacturing Companies with Turnover Above Rs. 5 billion.

Separately, another Perera-owned venture, Vallibel Power Erathna Plc, bagged the bronze award in the Power & Energy Companies category.

Backed by a legacy of excellence and innovation that spans 140 years, the Hayleys Group continues to serve as a beacon of sustainable innovation and value addition, maintaining a global presence through manufacturing and marketing offices across five regions with business interests spanning a total of 16 sectors and today stands out as one of Sri Lanka's most prominent success stories, having been the first listed Sri Lankan corporate to surpass $ 1billion in revenue and accounting for 3.3% of the nation's total export earnings and having recently been declared among Sri Lanka's Top 10 Most Admired Corporates by ICCSL and CIMA, in addition to retaining the No.1 position on the LMD Top 100 Rankings.

The Vallibel One Group similarly stands out as one of Sri Lanka's most strategically diversified and innovation inspired business conglomerates, operating across a total of 46 subsidiaries in seven industry sectors - Lifestyle, Finance, Aluminium, Leisure, Plantations, Packaging, Healthcare and Consumer.