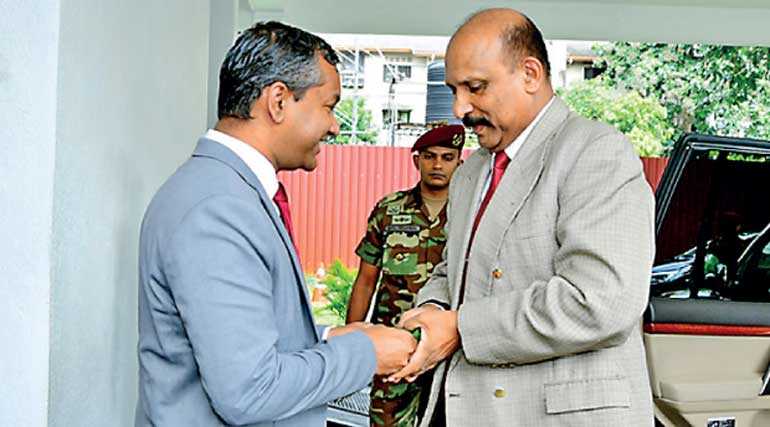 Defence Ministry Secretary Maj. Gen. (Rtd.) Kamal Gunaratne being received by TRC Director General Oshada Senanayake yesterday at the ceremony where the former assumed office as Chairman of TRC
Defence Ministry Secretary Maj. Gen. (Rtd.) Kamal Gunaratne assumed duties as the Chairman of the Telecommunications Regulatory Commission of Sri Lanka (TRCSL), yesterday.

Addressing the TRCSL staff at its Head Office, he said people had high expectations that this Government would put the country back into the correct track to development, and the State sector had to fulfil their aspirations by performing well.

"We now have a good leadership under President Gotabaya Rajapaksa. Singaporean leaders always remind their people to serve more than now. There, in big digital screens they display the message 'Give little bit more to encourage people to serve the country," he said.

"I request you all to give that little bit more and to perform well to serve more. As State sector employees you have more responsibilities on your shoulders but give more of your service for the country's development," Maj. Gen. Gunaratne said.

TRCSL, which is under the purview of the Defence Ministry, will expand the 5G technology islandwide under the concept of 'Smart Sri Lanka' of President Rajapaksa's manifesto.

Defence Secretary Maj. Gen. Gunaratne was received by the new TRCSL Director General Oshada Senanayake upon his arrival.