Tells P'ment that after 19A, decision of when to dissolve P'ment rests with members
By Ashwin Hemmathagama – Our Lobby Correspondent

Prime Minister Ranil Wickremesinghe yesterday said any decision to dissolve Parliament after the Presidential Elections expected at the end of the year should be taken by the House membership as that power has been removed from the Executive by the 19th Amendment.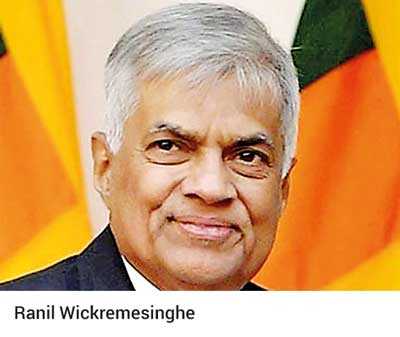 Prime Minister, responding to a question for oral answer raised by JVP lawmaker Bimal Rathnayake yesterday in Parliament, said: "Today the power to dissolve Parliament remains with the Parliament unlike in the past where the power was vested with the President. In the event the need arises to dissolve Parliament, it can only be done with the agreement of Parliament. The decision on whether or not to dissolve Parliament, after the Presidential Election, is something that Parliament should decide upon, together with the party leaders consent."

The current Parliament is the 15th Parliament of Sri Lanka with the membership determined by the results of the General Election held on 17 August 2015. The term of Parliament will remain for five years from the date of the first sitting which took place on 1 September 2015.

During the General Election, United National Front for Good Governance led by the United National Party (UNP) won 106 seats but failed to secure a majority in Parliament. The main opposition United People's Freedom Alliance (UPFA) won 95 seats while the Tamil National Alliance (TNA), the largest party representing Sri Lankan Tamils, won 16 seats, followed by Janatha Vimukthi Peramuna (JVP) winning six seats, Sri Lanka Muslim Congress and Eelam People's Democratic Party winning a seat each.