Food inflation drops to 59.3%, whilst non-food inflation declines to 59% in December 2022
Core Inflation declines to 57.5% in December from 60.1% in November 2022
---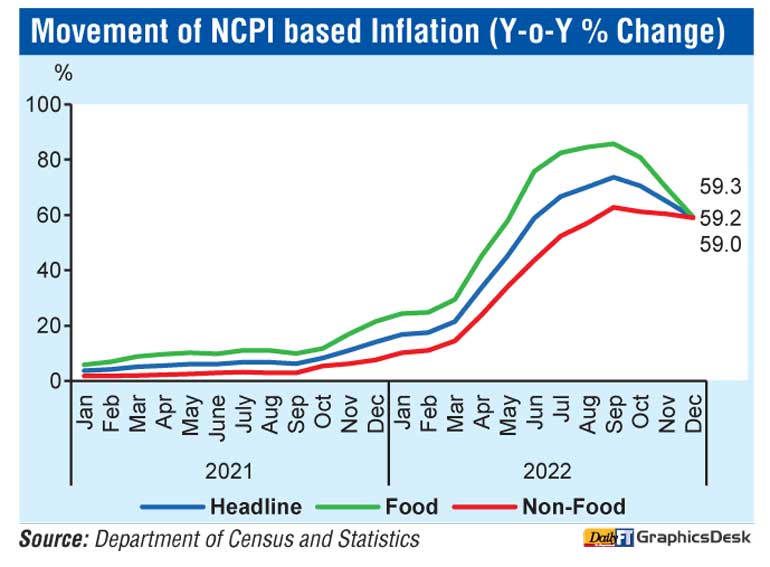 In a welcome move, the national inflation dipped in December, a positive development and is consistent with the forecasts made by the Central Bank.

The Department of Census and Statistics yesterday said the overall rate of inflation as measured by the National Consumer Price Index (NCPI) on a year-on-year basis was 59.2% in December. In November it was 65%, in October it was 70.6% and in September it was 73.7%.

The annual average inflation rose to 50.4% in December from 46.7% in November 2022.

It also showed that the Core Inflation decreased to 57.5% in December from 60.1% in November 2022, while the annual average core inflation increased to 43.9% in December from 40.0% in November 2022.

Food inflation decreased to 59.3% in December from 69.8% in November and non-food inflation was down to 59% in December from 60.4% in November 2022.

The contribution of food commodities to inflation was 29.52%, whilst the contribution of non-food items was 29.62%.

The change in the NCPI measured on month-on-month basis continued its recent moderating trend and recorded 0.01% in December 2022. This was mainly contributed by the monthly decrease of the prices of the items in the Food category, which amounted to 0.20%.

Accordingly, within the Food category, significant decreases were observed in the prices of big onions, dried fish, sugar, vegetables, rice, wheat flour, bread, lime, Mysore dhal, and potatoes. However, increases in index values were reported for coconuts, milk powder, fresh fruits, tea dust/leaves, coconut oil, eggs, red onions and chicken.

Nevertheless, the non-food category recorded a monthly increase of 0.21% in December 2022, due to the price increases observed in 'clothing and footwear', 'furnishing, household equipment and routine household maintenance' (energy saving bulbs), 'transport' (vehicle license fees), 'recreation and culture' (books), 'restaurants and hotels' and 'miscellaneous goods and services (toilet soap).

However, price decreases in groups of items were reported for 'alcoholic beverages, tobacco and narcotics' (betel leaves and areca nuts) and 'housing, water, electricity, gas and other fuels' (materials for maintenance).

Further, a very slight price increase was reported in the group of 'health'. Meanwhile, the price indices of the 'communication' and 'education' groups remained unchanged during the month.