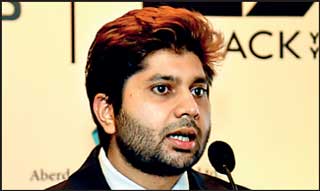 Aberdeen Holdings Deputy Chairman Hassan Kassim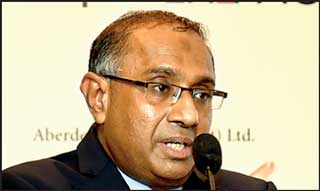 Ex-pack Corrugated Cartons MD Zulficar Ghouse
---
Latest listed company status aspirant Ex-pack Corrugated Cartons Ltd. yesterday expressed confidence over its Rs. 700 million Initial Public Offering (IPO) given the attractive pricing and high growth potential both in domestic and export markets.
Offering a 25% stake amounting to 83.3 million shares at Rs. 8.40 each, the IPO of the country's biggest player in the corrugated carton industry will officially open on 22 October but is now up for subscription. Funds raised via the IPO will be used to finance a Rs. 3 billion expansion, which will see a 50% increase in its production capacity to 4,000 tons per month by 2025, from 2,750 tons at present.

The rest of the cost of the expansion will be funded through internally generated funds and debt funding.

The new state-of-the-art facility on a 10-acre land will be built in two phases in 11-13 months, with the first one enabling it with a capacity of 1,500-2,000 tons and the balance by FY25. The existing facility will be sold thereafter.

With over 600 customers locally and globally, Ex-pack is responsible for one in every five cartons manufactured in Sri Lanka and is the market leader with a 18% share. The new facility will enable Ex-pack to accept orders amounting to 250-300 tons, which the company has been refusing due to capacity constraints. Output has had a Compounded Annual Growth Rate (CAGR) of 23% over the past decade.

A subsidiary of diversified entity Aberdeen Holdings Ltd., Ex-pack's revenue is Rs. 4.7 billion in FY21 of which 53% (Rs. 2.5 billion) comes from exports to 15 countries, including the Maldives, where it is the market leader as well. Of the inputs, imports account for 60% but around 40% of revenue. A key subsidiary is Neptune Papers, which recycles paper for export, including some of the global suppliers of key input for Ex-pack. The subsidiary contributes 30% to Group turnover.

The IPO is managed by investment bankers – Capital Alliance Partners Ltd. and Asia Securities Advisors Ltd. They said the IPO price translates into an estimated forward PER of 7.7x for FY22 and implied TTM PER (as of August 2021) of 8.9x. They said that the IPO price also reflects a significant discount to the local peer multiples. The upside to the IPO price is 32% on the basis of discounted cash flows and forward PER.

"The IPO heralds a new collective journey for us, our employees, customers and partners," Aberdeen Holdings Deputy Chairman Hassan Kassim told a hybrid investor-cum-media forum yesterday. Aberdeen was previously known as Expolanka Investments.

Ex-pack Managing Director Zulficar Ghouse expressed confidence that the IPO will receive broad-based interest from local and foreign investors. He told the forum that prospects for growth both locally and globally look promising.

Though some of the recent issues have performed below expectations in the secondary market, Ex-pack, as well as managers, expressed confidence in the IPO becoming a success given its size, attractive valuation and future upside.

The company is expected to maintain a dividend pay-out ratio in the range of 45-50%. Based on this and the forecasted earnings, the dividend yield (post-IPO) is expected to be 8.8% on average over the next five years. The Internal Rate of Return of 32% for an IPO investor through an exit in FY26 – considering Ex-pack maintains the expected dividend pay-out ratios and the investor exiting at a multiple of 10.1x (weighted average local peer PER average).

Over two decades, Ex-pack Corrugated Cartons has developed a much-respected local and international presence in the B2B space, with an enviable customer portfolio comprising major corporates and brands in over eight countries.

Ex-pack's product portfolio includes regular slotted cartons, die-cut cartons, laminated cartons and a host of specialised products developed using recycled material. The company has designed and engineered many innovative, benchmark-level products, including lightweight cartons for fresh fish, and garment on hanger cartons, for high-quality apparel to be shipped upright, hung on clothes hangers. Ex-pack also worked with the Department of Elections to transform ballot boxes in Sri Lanka, crafting them out of corrugated cartons for the first time ever, enhancing security and mobility, during the 2020 general election. The company serves top corporate customers and brands, worldwide, across a range of industries, including FMCG, consumer durables, apparel, tea and fisheries.