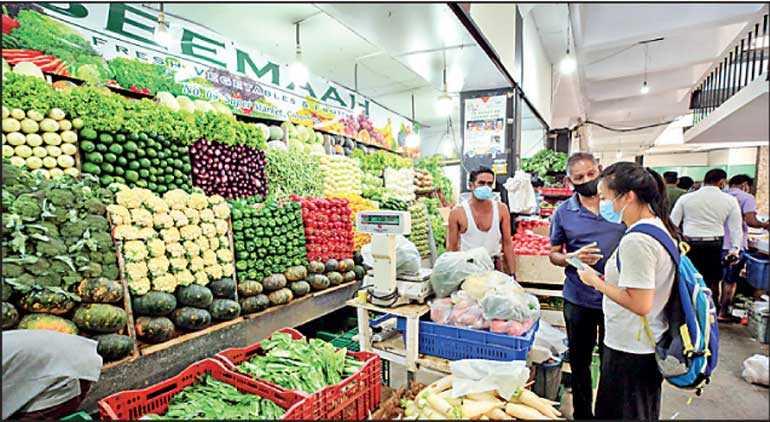 A shopkeeper selling vegetables at the Colpetty market
---
MoU signed between Housing and Urban Development Ministry and CMC
1-acre space to be changed into 40-storey mixed development project
Apartments, office space and shopping mall to be part of new venture
---
The Government has decided to develop the Colpetty Market into a 40-storey mixed development project with a Memorandum of Understanding (MoU) signed between the Colombo Municipal Council (CMC) and the Urban Development Authority (UDA).

The Urban Development and Housing Ministry issuing a statement said the upgrade was decided upon the instructions of Prime Minister Mahinda Rajapaksa. The Colpetty Market is located in the heart of Colombo, between Dharmapala Mawatha and St. Michael's Road, spread over an acre of land.

The market, comprising 90 shops in a three-storey building, was built during the tenure of former mayor of the Colombo Municipal Council A.H.M. Fowzie. The market was opened by the then US Ambassador to Sri Lanka at the Non-Aligned Movement Summit in August 1976 at the invitation of the then Prime Minister Sirimavo Bandaranaike.

At present, dirty water from the fish stalls on the first floor of the dilapidated market is leaking to the ground floor through the cement floor, damaging the ground floor parking lot.

According to the first plan, the ground floor was reserved entirely for parking, but as the number of shops increased, the number of vehicles that could be parked on the ground floor is now limited to 25 due to the presence of shops on the ground floor

The shopkeepers say foreign consumers, including embassy officials, are increasingly coming to this market and they expect to attract more foreign customers in the future. In addition, the shop owners say that action should be taken to attract more local customers in the future.

Between 1,500 and 2,000 customers visit the retail-only urban market daily, with retail sales exceeding Rs. 5 million a day, according to shop owners. However, the sanitation facilities in this urban market are minimal, the shop owners say. Although the total number of toilets required is 15, at present there are only eight toilets.

Meanwhile, the COVID-19 Control Committee, which has been set up to control the COVID-19 disease situation, is playing a major role.

The decision to build a 40-storey, multi-storey mixed shopping complex was taken at the request of the shop owners to develop a market with modern facilities.

The proposed mixed development shopping complex will be equipped with all modern facilities and will provide the public with the opportunity to meet all their daily needs. The proposed shopping complex will have apartments, office space, a shopping mall, car parks, function halls, restaurants, and other essential services.

The decision to upgrade the Colpetty Market to a multi-storey mixed shopping complex has been welcomed by the existing shop owners of the market.

Secretary to the Ministry of Urban Development and Housing Sirinimal Perera, Urban Development Authority Chairman Chartered Architect Harshan de Silva, Urban Development Authority Director General Chartered Urban Architect Prasad Ranaweera, Mayor of Colombo Municipal Council Rosy Senanayake, and Colombo Municipal Council Municipal Commissioner Roshini Dissanayake participated in the occasion.