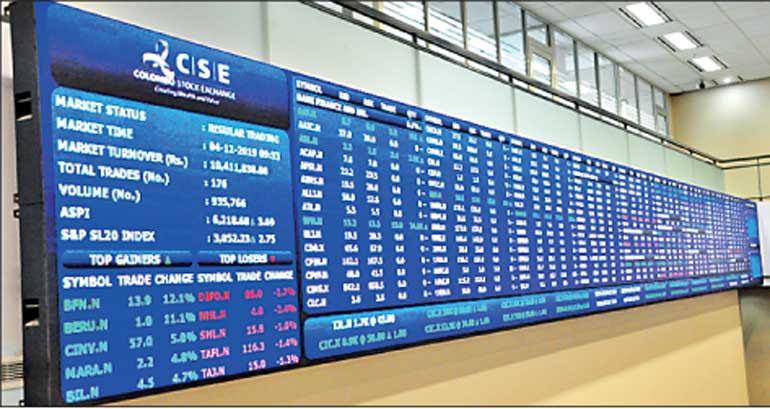 The Colombo stock market this week succeeded to close on the up reversing the losing streak suffered in the previous three weeks.

The All Share Price Index finished the week up 178.80 points (2.39%) and the S&P SL20 gained 101.54 points (4.29%). Turnover averaged Rs. 900 million almost same as last week.

Yesterday, the CSE sustained the new found optimism on the part of investors. The S&P SL20 gained by 1.6% and the ASPI by 1.26%. Turnover crossed the Rs. 1 billion mark for the second consecutive day to close at Rs. 1.24 billion. Volume however was low at 44.7 million shares.

Asia Securities said the indices closed in positive territory for a fourth consecutive session on Friday on the back of price gains in EXPO (+3.5%), LOLC (+4.1%), LOFC (+7.1%), HAYL (+5.2%), MELS (+3.1%), and LIOC (+4.4%).

It said retail and HNI activity remained at healthy levels with turnover coming in slightly higher. LIOC topped the turnover list (Rs. 241 million), followed by EXPO (Rs. 214 million), COMB (Rs. 154 million), and HNB (Rs. 88 million).

After recording a gap-up opening of 64 points, the ASPI continued its upbeat momentum in the first hour of trading and touched an intra-day high of 7,690 (+134 points) before stabilising in the range of 7,650-7,680. The breadth of the market remained strong with 121 stocks recording price gains for the day and 55 settling with losses.

Asia also said foreigners recorded a net outflow of Rs. 39.5 million while their participation declined to 3.9% of turnover (previous day 8.1%). Net foreign buying topped in COMB.N at Rs. 1.1 million and selling topped in HNB.N at Rs. 36.9 million.

First Capital said the Bourse extended its positive momentum for the fourth straight day while recording the highest intraday gain in two-week as hefty buying interest was witnessed on major blue-chip companies.

"Index surged by over 60 points as soon as the market opened and continued to trade positively throughout the session while closing the day at 7,651, gaining 95 points. Moreover, EXPO continued its upward movement as investors actively traded on the share after the company announced a dividend of Rs. 8.19 on Wednesday," First Capital added.

It said turnover was backed by significant contributions from the Banking sector (23%) and Energy sector (19%), in which LIOC alone contributed 19% with active retail participation as investors anticipated a fuel price hike during the weekend.

NDB Securities said high net worth and institutional investor participation was noted in Commercial Bank, Hatton National Bank, The Colombo Fort Land and Building. Mixed interest was observed in John Keells Holdings, Expolanka Holdings and Lanka IOC whilst retail interest was noted in SMB Leasing non-voting, Browns Investments and LOLC Finance.

The Banking sector was the top contributor to the market turnover (due to Commercial Bank and Hatton National Bank) whilst the sector index edged up by 0.05%. The share price of Commercial Bank moved down by 20 cents (0.40%) to close at Rs 50.30. The share price of Hatton National Bank closed flat at Rs 80.

Energy sector was the second highest contributor to the market turnover (due to Lanka IOC) whilst the sector index increased by 4%. The share price of Lanka IOC increased by Rs. 3 (4.37%) to close at Rs. 71.70.

Expolanka Holdings and John Keells Holdings were also included amongst the top turnover contributors. The share price of Expolanka Holdings gained Rs. 6.50 (3.50%) to close at Rs. 192.25. The share price of John Keells Holdings appreciated by 25 cents to close at Rs. 122.25.