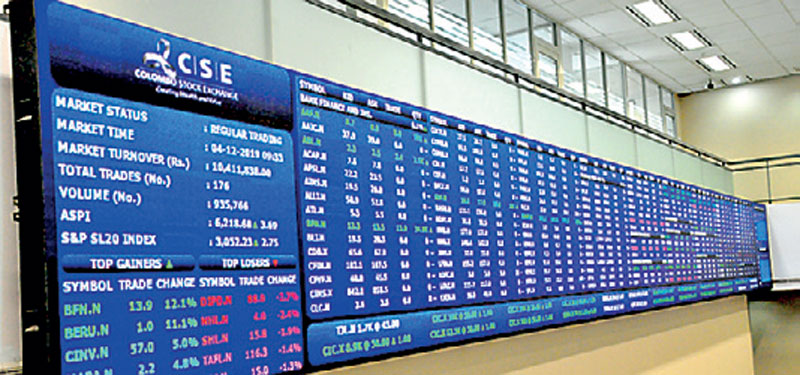 The Colombo stock market yesterday gained sharply on active investor participation in response to early signs of political stability being restored.

The active S&P SL20 Index gained by 3.7% and the benchmark ASPI rose by 3%. Turnover was Rs. 1.2 billion involving 54 million shares.

Analysts said investor sentiment got a boost with early signs of peaceful resolution of political instability after President Gotabaya Rajapaksa's address to the nation last night and likelihood of UNP Leader Ranil Wickremesinghe being appointed as Prime Minister and a new all-party Cabinet as an interim measure. The CSE was closed for two days after Monday's Anti-Government incidents nationwide.

Asia Securities said following a two-day hiatus, the market resumed trading on a high note on the back of a broad-based pickup as retail and HNI investors continued taking positions at bargain prices following the recent sell-off.

The indices surged more than 3% each while turnover picked up significantly led by EXPO (Rs. 444 million), HNB (Rs. 100 million) and LOFC (Rs. 87 million). Earlier, the ASPI commenced the session with a gap-down of 29 points, however picking up momentum immediately, the index surged past the 7,700 level mainly led by front-liners and scaled to an intra-day high of 7,775 (+258 points) before witnessing a bout of consolidation at the back end of the session.

Notable price gains among the actively traded stocks were recorded by EXPO (+8.7%), LOFC (+9.2%), HAYL (+8.4%), MGT (+7.4%), BIL (+5.0%) and VONE (+7.3%). The breadth of the market ended strong with price gainers outnumbering decliners by a wide margin of 168 to 26.

Asia said foreigners recorded a net outflow of Rs. 49.6 million while their participation increased to 3.9% of turnover (previous day 1.4%). Net foreign buying topped in JKH at Rs. 4 million while selling topped in HNB at Rs. 31.5 million.

First Capital said the Bourse thrived in the green following the market closure of two days as investors displayed an optimistic sentiment with expectations on stability in light of the recent changes on the political front, alongside the appointment of a new Prime Minister.

"The Index opened with a sharp uptrend and continued the gaining momentum throughout the session as investors indulged on a buying spree. Eventually, with the large contribution of counters such as EXPO and HAYL, the market closed in the green at 7,755 with a 2-week high intraday gain of 238 points," First Capital said adding turnover was led by a joint contribution of 51% from Transportation sector and Food, Beverage and Tobacco sector.

NDB Securities said high net worth and institutional investor participation remained subdued for the day. Mixed interest was observed in Expolanka Holdings, Hatton National Bank and Hayleys Fabric, whilst retail interest was noted in LOLC Finance, Browns Investments and SMB Leasing. Transportation sector was the top contributor to the market turnover (due to Expolanka Holdings), whilst the sector index gained 8.65%. The share price of Expolanka Holdings increased by Rs. 16.50 (10.41%) to close at Rs. 175.

Food, Beverage and Tobacco sector was the second highest contributor to the market turnover (due to Browns Investments), whilst the sector index increased by 2.35%. The share price of Browns Investments recorded a gain of 40 cents (6.78%) to close at Rs. 6.30.

Hatton National Bank, LOLC Finance and Hayleys Fabric were also included amongst the top turnover contributors. The share price of Hatton National Bank lost one rupee (1.20%) to close at Rs. 82. The share price of LOLC Finance moved up by 60 cents (9.23%) to close at Rs. 7.10. The share price of Hayleys Fabric appreciated by Rs. 1.90 (7.01%) to close at Rs. 29.

Separately Dilmah Ceylon Tea Company, Harischandra Mills, Aitken Spence and Ceylon Tobacco Company announced their interim dividends of Rs. 25, Rs. 25, Rs. 4 and Rs. 10 per share respectively.