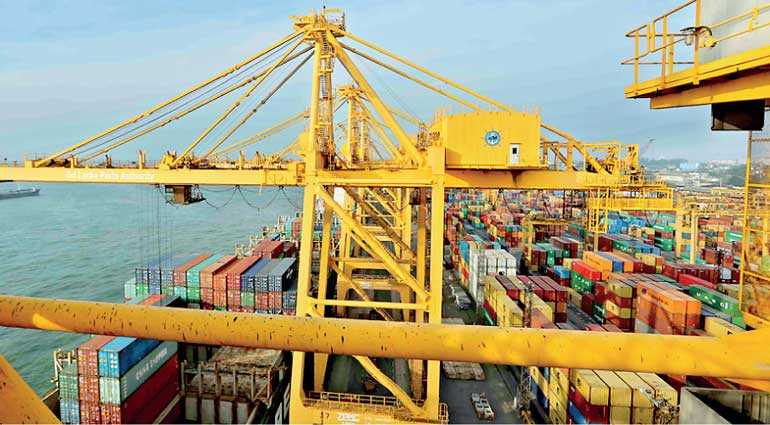 SLPA owned JCT lags behind; Sri Lanka draws less ships and throughput loses growth momentum causing concern among shipping industry
Colombo Port has suffered the first-ever dip in volumes handled in many decades, causing concern within the industry.

As per provisional data, total throughput of Colombo Port in July had declined by 2.6% to 585,379 TUEs from a year earlier.

The July drop has dented the year to date growth to 4% to 4.17 million TEUs, down from 5.2% in June.

The biggest contributor to the drop in July had come from Sri Lanka Ports Authority (SLPA), whose volume had declined by 12.7% to 166,440 TEUs. South Asia Gateway Terminals (SAGT) volume was down marginally by 2% to 174,519. However, the modern China-majority owned and managed Colombo International Container Terminal (CICT) has produced 5.2% growth to 244,420 TEUs.

CICT remains the biggest terminal year to date with 1.6 million TEUs handled in the first seven months of this year whilst SLPA volume improved by 3% to 1.33 million and that of SAGT by 2.9% to 1.22 million.

Transhipment volume at Colombo Port, the biggest revenue earner, had declined by 2.9% in July to 465,953 TEUs and domestic volume was down by 6.6% to 104,436 TEUs. Cumulative transhipment volume however, was up 5.6% to 3.35 million, whilst domestic boxes were down 8% to 730,293 TEUs.

Lack of marketing and lower than desired productivity are linked as main causes for the dip in July and SLPA's dwindling performance.

However, July also saw a 7% dip in the number of container ships calling Colombo Port. It was 23% down for SAGT and 1.7% dip for SLPA. CIC saw a 1.9% growth.

Year to date, the number of container ships calling at Colombo Port was down by 5.9% to 2,088. All terminals saw declines.

The dip at SLPA-controlled JCT in July is on the back of 12.9% decline in June.

Domestic container handling, which yields a revenue of around 400% more than a transhipment box, continue dip. In June, domestic box handling was 30.2%, July 16.3% , and first seven months the plunge was 14.6%. SLPA's transhipment volume was down 12.4% in July and by 9.5% in June. However, better performance earlier on has helped SLPA to end first seven months of 2019 at up 6.4%, but far behind CICT's growth of 11.2%.

Analysts said that end June (up 5.6%) and end July performance (up 3%) of SLPA in comparison to a year earlier is alarming as against a 15% growth in the corresponding period of last year.

They said that the overall deceleration of container volumes in Colombo Port comes in the wake of the Government entering into a MoU with India and Japan to manage the Colombo East Container Terminal which has been idle without equipment since 2015. The current Shipping and Ports Minister Sagala Ratnayake and his brother Kavan as Chairman of SLPA have renewed efforts to fast track operationalising ECT and the MoU has been emphasised as a win-win for all stakeholders.

Nevertheless, shipping industry analysts warned that that SLPA's proposed investment in ECT is far different to its involvement in SAGT and CICT in which it has 15% stake.

"Under the proposed MoU for ECT, the SLPA will have to finance debt for the procurement of container equipment, which will stand as a liability on its books," they argued.

It was pointed out that procuring container equipment and carrying out civil construction at SAGT and CICT was financed by the respective companies. The change in the structure in the proposed partnership of ECT will mean the SLPA being saddled with more debt, they added.