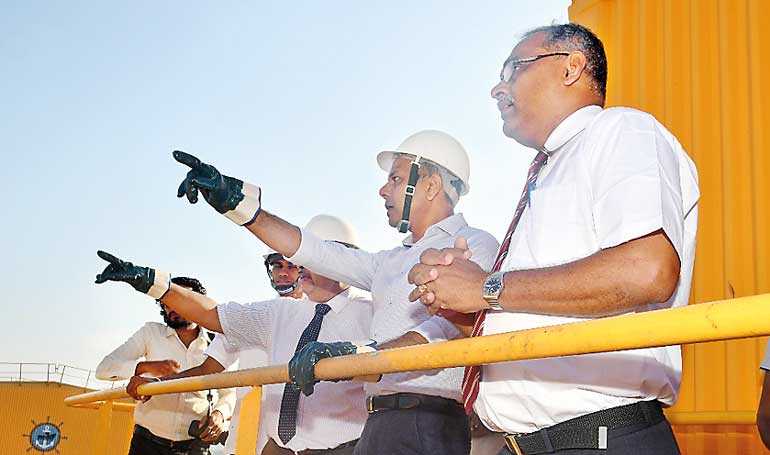 Ports and Shipping Minister Sagala Ratnayaka at a special inspection tour of the Jaya Container Terminal (JCT) of Sri Lanka Ports Authority (SLPA)
---
The Port of Colombo yesterday said container volumes have increased by 9.1% and the performance in the first four months by 5.9% Growth has been contributed to by all terminals – the Jaya Container Terminal (JCT), South Asia Gateway Terminal (SAGT) and the Colombo International Container Terminal (CICT).

In April 2018, the Port of Colombo had handled a total transhipments volume of 441,437 TEUs, which has increased to 482,910 for the same period this year. Accordingly, with the increase marked at SLPA and other terminals compared from January to April 2018, the Port of Colombo transshipment volumes have marked an increase of 8.6%. The container throughput at the Sri Lanka Ports Authority (SLPA) controlled terminals has also increased significantly by 10.5%.

The Port of Colombo is ranked the world's number one container growth port among the top 30 container ports for the year of 2018 in container handling. It has also recorded a 13.5% growth for the year 2018 over the same period of the previous year, reaching 22nd from the position of 23rd amongst global container ports, according to Alphaliner Monthly. It is also a significant achievement as it is the first time in history that the Port of Colombo has topped a global maritime ranking. With this growth, the Port of Colombo has leapt ahead many other Asian, Middle Eastern and European Ports.

The latest release of the Drewry Port Connectivity Index also ranked the Port of Colombo as the 11th best connectivity port in the world for 2018.

While commending the consistent growth in numbers, Minister of Ports and Shipping Sagala Ratnayaka said the SLPA has also focused on fast-tracking strategic decisions pertaining to the expansion of the Colombo Port's capacity. "Only such decisions," the Minister said, "would ensure that our growth is sustainable. The key focus of the SLPA at this point in time is to expedite processes relating to the expansion of the Colombo Port."

The Sri Lanka Ports Authority (SLPA) won the Ports Authority of the Year 2019 Award by the Global Ports Forum (GPF) for the second consecutive year at the GPF awards ceremony 2019.

The relationship between the management and representative bodies of workers, collaborative support from all parties, and the wide engagement of all stakeholders have effectively contributed to the SLPA's success.