---
Sobitha Thera, Cardinal says will not recognise new PM as appointment is unethical and goes against aspirations of the public
Opine illegitimate appointment an insult to protesting people; warn move will fuel more social unrest and political instability aggravating economic crisis
Caution other MPs over supporting dangerous nexus between GR and RW
Decry President's political games and gambling
JVP leader accuses new PM of being saviour of Rajapaksa family; says President and RW have no clue or respect public agitation
---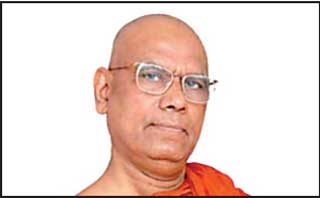 Ven. Omaple Sobitha Thera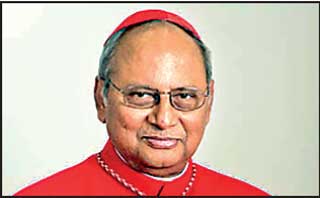 Archbishop of Colombo Malcolm Cardinal Ranjith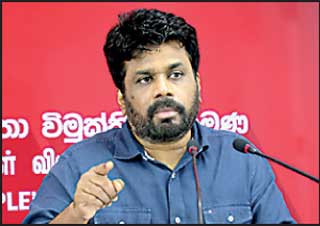 JVP Leader MP Anura Kumara Dissanayake
---
Members of the clergy and opposition politicians yesterday opposed the appointment of Ranil Wickremesinghe as Prime Minister saying it is unethical to appoint a person who does not command
the confidence of Parliament or the people.

Venerable Omaple Sobitha Thera and the Archbishop of Colombo Malcolm Cardinal Ranjith held a joint press briefing last evening calling for the cancellation of the swearing in of Wickremesinghe.

Ven.Sobitha Thera said this appointment does not meet the aspirations of the public who have been calling for change and said the new Prime Minister has failed to win the confidence of the people. Malcolm Cardinal Ranjith also rejected Wickremesinghe's appointment saying it is not legitimate and will not provide solutions to the people.

He said Wickremesinghe does not command the support of the majority of members in Parliament and the people's call is for a person with integrity to take over, not a person who has been defeated by them.

"The Maha Nayaka Thera's suggestion was for a non-partisan person. It is necessary for us to move forward from the present crisis with confidence and for that we need a complete change of this system and not piecemeal measures out of political deals," he said.

They also said the appointment was an insult to peaceful anti-Rajapaksa protestors hence will fuel more social unrest and political instability aggravating the economic crisis. Decrying President's political games and gambling via the appointment, the clergy also cautioned other MPs over supporting the dangerous nexus between President and Wickremesinghe.

Separately JVP leader and MP Anura Kumara Dissanayake said the decisions taken by the President and his Prime Minister will not be acceptable to the people. He accused Ranil Wickremesinghe of being the saviour of the Rajapaksa family and the latter of the former.

He said the solution to the present crisis lies in listening to the calls of the people. He also said with the appointment both Rajapaksa and Wickremesinghe have proved they have no clue or respect of public agitation.

Frontline Socialist Party General Secretary Pubudu Jagoda said replacing Mahinda Rajapaksa with Ranil Wickremesinghe as Prime Minister will not solve any problems and said soon a RanilGoHome will be set up.