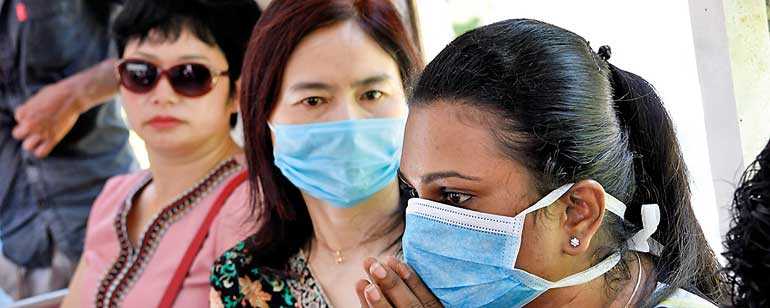 Face masks have become a common sight as the public take precautions against Coronavirus - Pic by Shehan Gunasekera
---
Health Ministry calls for public calm, says all precautions taken to contain virus
A Chinese woman has been identified as the first case of the Coronavirus in Sri Lanka, the Health Promotion Bureau

confirmed yesterday.

The woman was admitted to the Infectious Diseases Hospital (IDH) and was confirmed to have been infected during treatment. The Health Ministry has assured that all steps have been taken to contain the infection, and called on the public not to panic. The Chinese woman is reported to have come from Hubei Province in China.

News of the new virus, which has also been called Wuhan fever after the first city it appeared in, triggered panic-buying of surgical masks with many pharmacies running out of supplies by yesterday.

Coronaviruses (CoV) are a large family of viruses that cause illness, ranging from the common cold to more severe diseases such as Middle East Respiratory Syndrome (MERS-CoV) and Severe Acute Respiratory Syndrome (SARS-CoV). A novel coronavirus (nCoV) is a new strain that has not been previously identified in humans.

Common signs of infection include respiratory symptoms, fever, cough, shortness of breath and breathing difficulties. In more severe cases, infection can cause pneumonia, severe acute respiratory syndrome, kidney failure, and even death.

Standard recommendations to prevent infection spread include regular hand washing, covering mouth and nose when coughing and sneezing, and thoroughly cooking meat and eggs. Avoid close contact with anyone showing symptoms of respiratory illness such as coughing and sneezing.

In China, where the virus was first identified, the Government extended the Lunar New Year holiday to help contain an outbreak of the mysterious virus, with cases confirmed around the world. Of the nearly 3,000 people who have so far contracted the disease, the vast majority live in China.