---
Claims there is effort to spread false information about MCC
Says agreement possesses no provisions for sale of land to foreigners
Challenges Opposition to debate on matter
Megapolis and Western Develop-ment Minister Patali Champika Ranawaka yesterday rejected allegations made against the Millennium Challenge Corporation (MCC) agreement approved by the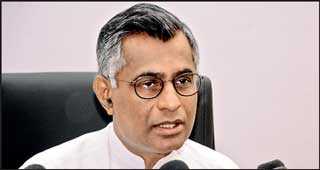 Patali Champika Ranawaka
Cabinet last week.

Ranawaka charged that there was a movement to spread false allegations in order to create fear among the public over the MCC agreement.

He firmly stressed that no part of the MCC agreement allowed for the creation of a fenced-off or restricted corridor across the island nor did it house any provision to sell land to a foreign country as some had recently alleged. "Some have claimed that this agreement will allow a designated corridor to be fenced off and allow the United States military to occupy it. These are baseless allegations," he argued.

"I challenge them to show where it says so in the MCC agreement. I am ready to face anyone in a debate on the terms of the agreement," he stressed, pointing out that the agreement was now in the public domain.

He highlighted that the MCC agreement was a grant not a loan and that it assisted Sri Lanka to implement public transport reform, traffic congestion reduction and management as well as to map out areas earmarked for development using technology. He claimed that Sri Lanka was one of the few countries to have a National Physical Plan and gain support for its implementation. The MCC grant is valued at $ 480 million.

The UNP Parliamentarian went on to explain that the National Physical Plan was an extension of the Town and Country Plan which existed in the early 2000s. According to Ranawaka, the National Physical Plan came into effect after becoming law in 2011, with the plan crucial to national infrastructure development, urbanisation and industrialisation in the coming years.

Ranawaka emphasised that the National Physical Plan was drafted over the years by a range of Sri Lankan scientists and professionals who identified the best areas for future growth, development and environmental sustainability.

"There is no US or CIA conspiracy like some have stated. There will be no fence or sale of land," he stressed. He explained that the US had signed similar agreements with African and Asian nations.

He observed that the main projects included the implementation of an advanced traffic management system, the modernisation of public transport with a key focus on the bus transport service and the modernisation of road networks.

The Minister went on to outline that congestion was a major concern for the Government which hindered growth. Through the MCC, a length of 132 km of road, 50 public crossings and nearly 130 junctions are set to be modernised to reduce traffic confession.

Ranawaka also highlighted that geo-mapping and the digitisation of land permits in some land zones identified for future development and urbanisation would provide landowners with a legal deed for the first time in decades.

The MCC agreement dictates that MCC funds can in no way be directly or indirectly used for military activities or war, he stated.

Furthermore, the agreement stated that the Sri Lankan Government would be responsible for ensuring that development did not have a negative impact on US jobs or industry, with Ranawaka pointing out that 29% of Sri Lankan exports were to the US.

Additionally, he stated that the MCC funds could not be used for any activity that left a negative social impact on women and children. He expressed that according to the terms of the MCC, the Sri Lankan Government had to be held accountable for the agreement and needed to ensure it was constitutional and passed by Parliament to receive the funds.

He opined that once debated in Parliament, anyone could raise objections to the MCC or seek legal intervention to ensure constitutional compatibility.

"This will be debated in Parliament and will be passed only once voted upon. I can categorically state that the Sri Lankan Government has not allowed anything illegal or unconstitutional to happen through this agreement," he stressed.