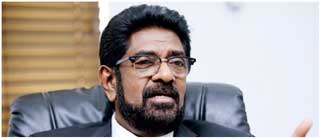 Health Minister Keheliya Rambukwella
---
The Cabinet of Ministers on Monday cleared a proposal by Health Minister Keheliya Rambukwella to reduce 16% of the maximum retail price (MRP) of all medicines registered under the National Medicine Regulatory Authority (NMRA) from 15 June and to review the prices every three months.

Joining the post-Cabinet meeting media briefing, Health Minister Keheliya Rambukwella said yesterday that the consumer must reap the benefit of the rupee's appreciation against the dollar.

"We should be fair in giving the medicine importers a transition period to sell the remaining products bought under higher prices. But certainly, all those registered with NMRA for around 60 medicines will have to slash their prices from 15 June," he explained.

Minister Rambukwella also said the relevant Government Gazette notification in this regard is being drafted.

He emphasised the move followed extensive discussions with the relevant authorities.

Considering the devaluation of the rupee against the US dollar last year, the Health Ministry approved raising the MRP of medicines by around 97% in several instances.

The Minister also called on the media to expose the private sector players who are not abiding by the law and making undue profits from selling medicine at high prices.

The NMRA established under the National Medicines Regulatory Authority Act No. 5 of 2015 is responsible for regulating all matters related to imposing prices of medicines.