---
Pledges to free up fresh funds to fast-track development
Says Govt. has weathered challenges well
Insists social development has not been ignored despite challenges
Prime Minister Ranil Wickremesinghe yesterday said he has instructed Cabinet to complete development projects within the next three months, and pledged to free up funds to fast-track development.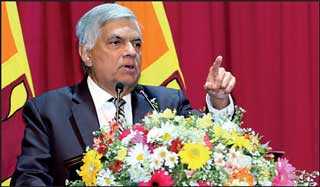 Prime Minister Ranil Wickremesinghe


Speaking at an event to hand over Rs 180 million to Samurdhi Housing Lottery winners at Temple Trees, Prime Minister Wickremesinghe was upbeat about the challenges faced by the Government, and insisted elections would not side-track development ventures. He also said other governments may have fallen if they faced similar hurdles, but that the current administration had persevered.

"As a Government, we faced massive challenges over the past few years. There were efforts to illegally take power away from us, to discredit us, and many accusations were levelled against us, but our Government has persevered. Even after the Easter Sunday attacks, the Government worked hard to restore normalcy and help the industries affected, and we managed to limit the economic impact because of these efforts," he told the gathering.

Even through the Government has focused on large infrastructure projects, it has not side-lined social development initiatives and development at grass root levels, the Prime Minister said. Highlighting the insurance schemes, tabs to students, increased expenditure given to housing, education, and healthcare, Wickremesinghe insisted that the Government will continue development work over the next few months.

"I have already instructed the Cabinet to complete development projects by about September or October. We will find the funds and fast-track development. It is imperative that Sri Lanka continues on its growth path. We are moving forward to a new world, and we must ensure that no one is left behind. This is why we have increased the Samurdhi program and provided additional assistance to the poor," he said.

The Samurdhi Housing Lottery Draw Program, commenced in 2002, handles a lottery draw every 6 months and rewards the Samurdhi beneficiaries as assistance to build their own houses. The Lottery Draw is handled by a computerised system, which is developed based on the details of all Samurdhi beneficiaries.

So far the program has provided 28,934 houses to the lottery winners. Initially, prize money of Rs. 150,000 each was given to the winners, and now it has been increased to Rs. 200,000. The Lottery Draw offers 331 houses per month, and costs over Rs. 60 million.

This cash grant is especially designed for people with special needs and those with chronic diseases. They can use the money to repair a home or for self-employment.