By Uditha Jayasinghe

Cabinet approval has been given for the Sri Lanka Ports Authority (SLPA) to begin negotiations on behalf of the Government with China Merchants Port Holdings (CM Port), on how the latter could invest $146 million in the Hambantota Port, Shipping Minister Mahinda Samarasinghe said yesterday.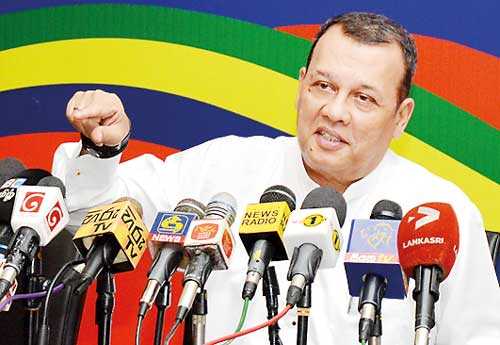 Samarasinghe told reporters that the $146 million was part of the $1.12 billion agreed to by CM Port when the Hambantota Port was handed over to the Chinese company in a joint venture by the Sri Lankan Government last year. The latest funds would be towards investment, and Samarasinghe had presented a Cabinet paper seeking approval for the SLPA to represent the Sri Lankan Government in deciding how the $146 million would be invested in the port.

"Now that we have received Cabinet approval authorising the SLPA, we will begin negotiations with the Chinese company, on what kind of investment would be made in the port," he said.

An additional $400 million-$600 million would also be forthcoming under the agreement signed by CM Port, though a timeline has not been clearly announced yet by the company.

Following the agreement, CM Port had outlined large investment projects for the port, including a refinery and LNG plant that is expected to attract significant investment. The Sri Lankan Government approved the LNG plant in November 2017, after the Chinese Government nominated China Machinery Engineering Corporation (CEMC) to be the implementing partner. CEMC, together with the Ceylon Electricity Board, will have a 70:30 shareholding ratio respectively.

The plant is a result of the investment and economic agreement between the two countries, and was initially designed to supply power to industries established in the Hambantota area. Further, a separate LNG terminal will also be built in the Hambantota area, enabling the plant to operate on natural gas from its inception. According to proposals given by the CEMC, the plant will be completed in two years.