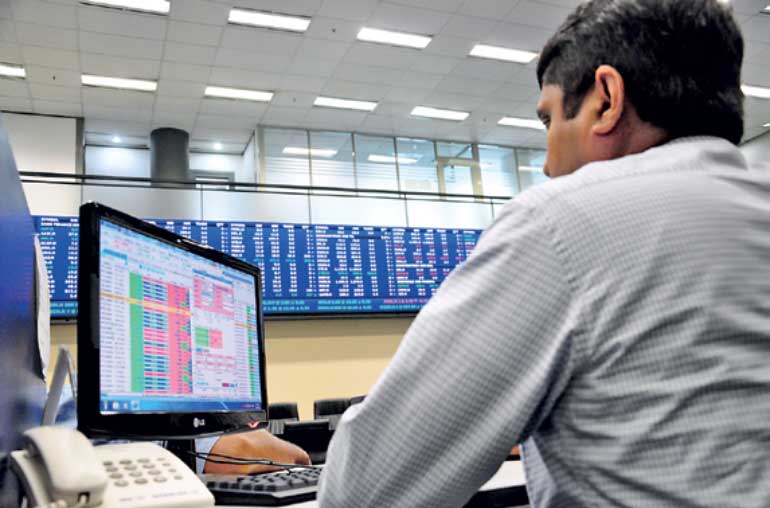 Net foreign selling too nears Rs. 50 b mark; likely to surpass record outflow of Rs. 51 b last year
The Colombo bourse is on the brink of achieving a significant milestone of Rs. 5 trillion closing market capitalisation if bullish investor sentiment is sustained today.

If not for a bit of profit taking, the CSE would have closed yesterday with the milestone as the ASPI recovered mid-day after falling in early trading but couldn't sustain the rally. However, the market capitalisation amounted to Rs. 4.999 trillion, up from Rs. 4.997 trillion. However, year-to-date (YTD) the CSE's value is up by a whopping 69%. Thanks to the sustained bullish sentiments by local investors, the market capitalisation today is around 30% of GDP as against 20% last year.

The market closed marginally on the up yesterday whilst posting a healthy Rs. 9 billion turnover with over 343 million shares traded.

Another looming milestone though is the negative YTD net foreign outflow, which is nearing Rs. 50 billion. As of yesterday, it amounted to Rs. 49.87 billion. This is on top of a record Rs. 51 billion outflow last year. With a month more, the 2021 figure is likely to be a new high.
Asia Securities said supported by price gains in EXPO, the indices edged slightly higher on Monday after witnessing a bout of volatility in the first half of the session. Despite momentum-stocks posting price losses, retail and HNI investors continued positioning themselves in more fundamentally sound counters across sectors, resulting in a strong turnover at market close. EXPO topped activity with a turnover of Rs. 1.86 billion followed by BIL (Rs. 1.2 billion) and PACK (Rs. 934 million).

"Following a sharp 114-point gap up opening, the ASPI erased its gains and slipped to an intra-day low of 11,160 (-38 points) in the first 15 minutes of trading. After surging 118 points, the index again returned to negative territory dragged by price declines in BIL, LOLC, LOFC, and JKH. Thereupon, the index found support in EXPO and gradually regained ground as the session progressed. The stock continued its upbeat performance throughout the session and crossed the Rs. 500 billion market cap milestone with a gain of 6.6%, buoyed by strong retail and HNI demand," Asia said.

Overall, 62 stocks ended higher while 143 settled with price losses.

Asia also said foreigners recorded a net outflow of Rs. 12.3 million. Net foreign buying topped in DIAL at Rs. 16 million and net selling topped in JKH at Rs. 20 million.

First Capital said the bourse managed to sustain its position in the green zone for the third consecutive day regardless of concerns over the new COVID-19 variant detected globally.

"Index peaked at an all-time high of 11,318 while gaining 121 points as soon as the market opened. Subsequently, index dropped down drastically to an intraday low of 11,150 within the 15 minutes of the session. Following a volatile trading session, the index closed for the day at 11,202, gaining four points," First Capital added.

It said turnover was led by a joint contribution of 42% from the Capital Goods sector and the Transportation sector.

NDB Securities said the ASPI edged up as a result of price gains in counters such as Expolanka Holdings, Dipped Products and Hayleys.

It said high net worth and institutional investor participation was noted in Access Engineering. Mixed interest was observed in Expolanka Holdings, Royal Ceramics and Lanka Realty Investments whilst retail interest was noted in Browns Investments, Ex-pack Corrugated Cartons and Softlogic Capital.

The Capital Goods sector was the top contributor to the market turnover (due to Royal Ceramics), whilst the sector index lost 0.61%. The share price of Royal Ceramics appreciated by Rs. 1.80 (2.89%) to close at Rs. 64.10.

The Transportation sector was the second highest contributor to the market turnover (due to Expolanka Holdings), whilst the sector index increased by 6.55%. The share price of Expolanka Holdings increased by Rs. 16.25 (6.57%), closing at Rs. 263.50

Browns Investments, Ex-pack Corrugated Cartons and Lanka Realty Investments were also included amongst the top turnover contributors. The share price of Browns Investments lost 20 cents (1.48%) to close at Rs. 13.30. The share price of Ex-pack Corrugated Cartons moved up by Rs. 5.30 (30.11%) to close at Rs. 22.90. The share price of Lanka Realty Investments recorded a gain of Rs. 4.20 (15.85%), closing at Rs. 30.70.