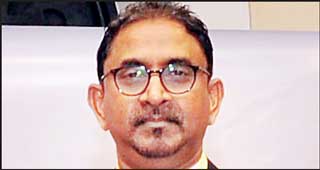 CNCI Chairman Canisius Fernando
---
The Ceylon National Chamber of Industries (CNCI) has urged the Government to vaccinate the employees of manufacturing and service industries and trading companies as a matter of priority.
CNCI Chairman Canisius Fernando said that the industrial sector was facing numerous challenges amid COVID-19 as the companies had been dealing with shutdowns, limited operations and other disruptions for more than a year now.

As vaccines begin to roll-out with receipt of a considerable quantity of 3.1 million doses of Sinopharm, he believes that the industrial sector employees deserve to be given priority for their active and risk-taking contribution to keep essential products and services moving uninterruptedly amidst numerous hardships to maintain socio-economic wellbeing during this period.

He pointed out that a sizable quantity of employees in the industrial sector had taken the first dose of AstraZeneca – Covishield vaccine and were awaiting the second dose, which has been overdue for more than a month.

Whilst extending his gratitude on behalf of the CNCI to the medical and healthcare professionals, the COVID-19 task force and officers of all other Government institutions involved in the front line and indirect operations to contain the spreading of the virus, he has requested the Government authorities concerned to consider the industry employees as a priority segment in the COVID-19 vaccination program.

Fernando appreciated the Government's concern in ensuring a sustainable economy and the support extended to keep the industries moving amidst all constraints.