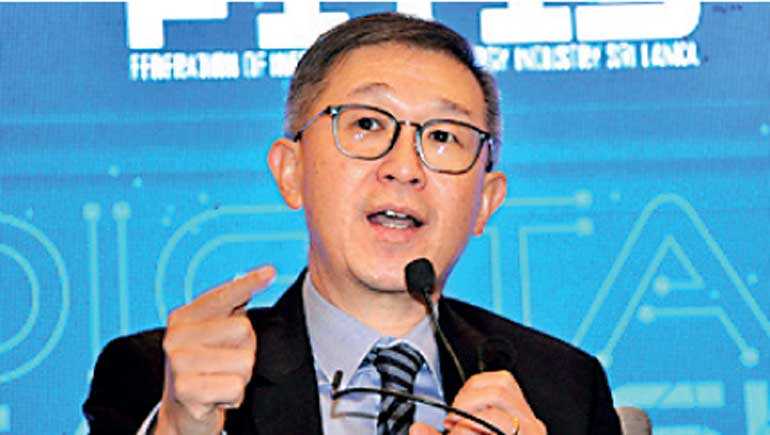 EY Advisory ASEAN and Malaysia Managing Partner Chow Sang Hoe - Pic by Lasantha Kumara
---
Inspire, innovate and inculcate – secret ingredients for digital transformation
Says digital transformation truly lies in the hands of people, technology can be bought


A top Malaysian expert recently highlighted that digital transformation is on the shoulders of chief executive officers (CEOs), and they must lead and influence the need for change.

"In this transformation, having CEOs that inspire change will assist technology innovations to push possibilities and drive new business ventures," Ernst & Young (EY) Advisory ASEAN and Malaysia Managing Partner Chow Sang Hoe said, addressing a C-Suite business leaders' forum in Colombo last week.

At the forum, organised by the Federation of Information Technology Industry Sri Lanka (FITIS) and titled 'Digital Transformation: The emerging role of CEOs', Chow spoke on new questions for C-suites to consider in an era of unprecedented disruptions and hyper-connected changes.

The three key secret ingredients for the digital transformation, according to him, were: inspire, innovate and inculcate.

He said while having an open mind towards changes and keeping abreast of the best technologies works for individual companies, it's also important to keep inspiring the employees, particularly to think differently.

"The farsighted CEOs are already rewriting their playbooks and paving the way for innovation. A CEO promotes an environment of collaboration, investment and capabilities," he added.

He said the ability to assess new-age tech trends, understand the values they can deliver, and adopt the tech which is relevant to an organisation's business model is a process of continuous adaptation. "The rise of AI, and other advanced emerging technologies is subjecting CEOs to relentless change," he added

Chow pointed out that CEOs also cultivate agility and adaptability to create a versatile group of employees.

"Inculcate is also about having a vision to sustain, to build, engage and lead teams that focus to achieve brave ambitions, which will drive innovation and growth," he said.

Chow noted that leaders must establish a framework to assess, activate and optimise digital efforts to build scale and support the expanding portfolio. Future capabilities must be identified to understand, activate the strategy and prepare the organisation for new growth and innovation plans.

He also cited some of the leading companies in ASEAN as examples that follow such transformation, which includes the Police Force in Singapore, where they use data analytics in artificial intelligence (AI) to combat finance crimes.

Innovation, centre of excellence, organisation structure, agility and culture as well as training and hiring were outlines as key components to sustain digital transformation.

"Establish a governance model for guiding and managing a program across the organisation. In addition, it is important to infuse design thinking and agility to enable organisations to respond to rapid market disruption," he added.

In terms of training and hiring, Chow said it is imperative to offer learning and development initiatives that not only train existing staff, but serve to attract new talent to the business.

The silver lining in the digital transition, according to him, was that it allows companies to establish partnerships and ecosystems.
"Set up strong and committed partnerships to keep the customer at the heart of the business and deliver what they truly want. Build new paths that have not yet been imagined," he said.

Noting that advances in technology have already transformed multiple industries to the benefit of consumers, he said data-led insights are making their experiences richer and more personalised.

He reiterated that CEOs must be aware of their talent pool and capabilities during this transition. "Up-skilling and re-skilling of talent is imperative to build a future-ready team, and the right capabilities must be harnessed to mitigate technology-induced job loss," he said.

"Digital transformation to me is all about people, and having an open mind to embrace it is what it takes, as you can always buy technology," Chow said.

The forum also saw an insightful panel discussion with EY Advisory ASEAN and Malaysia Managing Partner Chow Sang Hoe, Kapruka.com Founder and Chairman Dulith Herath, and IBM Country General Manager Riza Wadood. The session was moderated by FITIS Chairman Abbas Kamrudeen. The discussion revolved around the imperatives for digital transformation and challenges faced by CEOs when instigating disruptive changes. (CdS)