Sustainability Committee
---
Pledges to make Colombo hotels' operations plastic-free by March 2020
The Colombo City Tourist Hotels Association (CCTHA) yesterday announced its pledge to eliminate the use of single-use plastic to preserve Sri Lanka's appeal as a top tourist destination.

The CCTHA which consists of 37 hotels has reached an agreement to identify key items within their hotel operations that can be substituted by sustainable products, for a unified approach to resolve the need for single-use plastic. The CCTHA's sustainability committee has formulated a short and long term plan to ensure that the sustainable tourism efforts are introduced to preserve, converse, and introduce hotel best practices to retain the aesthetic and environmental value to travellers and local communities. The committee pledges to do their utmost to drastically reduce the use of single-use plastic in its Colombo city hotels by March 2020. Supplier kiosks introducing sustainable products that could substitute single-use products found in hotels were also present at the launch on 29 October. Recent surveys published in Mongabay, across the island show that the southern coastal belt, a hotspot for tourism has become increasingly contaminated by single-use plastic.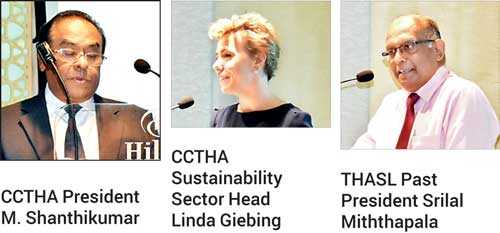 This fate also extends to the popular Galle Face promenade or scenic locations around Colombo.

The harmful impacts of unrestrained conventional tourism pose a threat to nature with discharges to oceans, waterways, deforestation, loss of natural habitat, and endangered flora and fauna.

CCTHA President and Ramada Colombo Director Operations M. Shanthikumar said: "I believe that the hospitality sector has an important part to play in preserving our environment. It is alarming to note that the main pollutant debris found in oceans are straws and water bottles. The sustainability committee of the CCTHA has been formed to finding solutions to these key challenges." He moved on to elaborate on some measures that have been taken with the formulation of the specialised arm to introduce best practices to hotels.

Renowned environmentalist and Tourist Hotels Association of Sri Lanka (THASL) past President Srilal Miththapala said: "The annual plastic production in the world is 378 million metric tonnes to meet the demands; there are many reasons why plastic has become an integral part of our lives – it's durable, inexpensive, retains hygienic conditions, and is lightweight – however, despite these advantages, it's impossible to destroy, which is why it retains in oceans and environment. Only an estimated 15% of the plastic is recycled – the rest ends on land or oceans and are often ingested by marine life."

An avid wildlife enthusiast, Miththapala went on to note the distortion of the environment and the harmful impacts on animals who ingest plastic.

Speaking at the event, CCTHA Sustainability Sector Head Linda Giebing says that the local hotel industry must be aware of the newer demands of the new generation of travellers who opt for environmentally-friendly accommodation.

"The sustainability committee of the CCTHA is committed to drastically reducing the use of single-use plastic in our hotel operations. Our efforts are to identify how we can replace plastic with non-harmful substitutes so that we can attract a new generation of socially and environmentally conscious travellers who look for businesses that align with their values and retain Sri Lanka's attractiveness as a top travel destination," says Giebing.

Amongst speakers present at the event were Tourism Development Board Director General Upali Rathnayake, Sashika Kulawahewa of Jetwing Hotels, and Chullaka Hapuarachchi of Eco360.

The CCTHA has also identified that these practices are sought after by tourists as well – travellers who fully aware of the harmful impact single-use plastic has on the environment now demands that these changes are being made as it aligns with their interests. The strategies being used the three 'R's' are key to the hotels: Reduce, that is to dissuade consumption; Replace; look for sustainable alternatives, and Recycle, with the help with the municipality and private sector.