By Darshana Abayasingha
---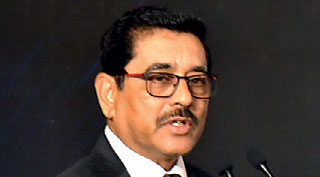 Central Bank Governor Dr.Nandalal Weerasinghe
---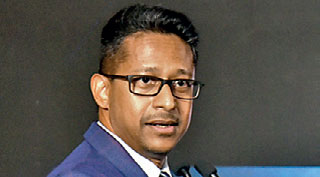 Sri Lanka Apparel Exports Association Chairman Indika Liyanahewage
---
Central Bank Governor Dr. Nandalal Weerasinghe last week called on exporters to be open and transparent on export proceeds and conversions, and called on industries to improve their reputation in order to receive better support from regulators.

Addressing the Sri Lanka Apparel Exporters Association (SLAEA) Annual General Meeting, the Governor said: "The allegations you are keeping money out is bad for the industry," adding the Central Bank alongside Treasury needs to better understand what is happening. Notwithstanding that, Dr. Weerasinghe was also appreciative of the apparel industry's continuing assistance to the nation during the ongoing crisis.

Pix by Ruwan Walpola
"In difficult times, when we needed urgent assistance in terms of currency to pay for a shipment waiting out there including demurrages, they have been forthcoming, which we appreciate," he said.

Addressing the membership and its guests that included US Ambassador Julie Chung, SLEA Chairman Indika Liyanahewage, made representations on behalf of the industry to the Governor, seeking his support to secure the future of the industry to deliver $ 8 billion in revenue. He expressed complete confidence in the industry's capacity to meet the target, but said it was more a question of 'when' due to prevailing challenges in the market.

Outlining five pain points, Liyanahewage said: "We would like tax numbers to be revised, as 30% is a figure we haven't heard of hitherto in this industry. For our industry to be competitive we need to offer a competitive price, and this tax impacts cost per minute. If income tax is over 36% it will lead to further brain drain of our knowledge workers who we continue to invest in.

"They take our dollars and knowledge which is our competitive advantage. Free Trade Agreements are extremely important for us and would help us grow value addition beyond 55%. We need new labour regulations, and we welcome the suggestions made by the President."

In addition, the SLEA Chairman requested the Governor to increase the time allowed for Mandatory Conversions to two months to support business cycles and requested a review of arbitrary new charges imposed at the Colombo port for imports. "We know you have to make unpopular decisions, but you don't have to make unfair decisions. Our sector is very efficient. When we are charged 36% taxes; they are paying for some inefficient workers in another sector," he added.

As has become customary, Governor Weerasinghe explained it is the Central Bank's business to determine monetary policy and financial system stability and said industry must address much of its pain to the relevant line ministries.

"Have you ever seen the Head of the Monetary Authority in the US, or the industry in the US asking for tax concessions from the head of its Central Bank. This doesn't happen anywhere. FTAs, labour reforms, taxes; there are established institutions to handle these. People and businesses in Sri Lanka think for anything you need a concession go to the Central Bank. But they never asked the Central Bank why it was printing so much money."

Dr. Weerasinghe advised the industry to address their issue of taxes to the Treasury. However, he noted that given the deficit he likes this government budget which promises increased revenue. "But how they do that is up to them." He stated that without addressing the issue of revenue-based fiscal consolidation, it is difficult to envisage a future.

Alluding to comments made by a speaker at a different forum, the Governor said brain drain is not caused by taxes but instead a lack of confidence in the country and its future. He also stressed the importance of keeping the door open and providing adequate opportunities for Sri Lankans to return to the country in time to come.

"In the time of crisis people are going. But you must keep the door open for them to come back. They will gain new knowledge and technologies. If you close the door then the brain drain is permanent." He also underscored the need to open up Sri Lanka's market through FTAs and other means, as protectionism breeds inefficiencies and costs.

On mandatory conversions – which does come under Central Bank purview – the Governor said despite industry saying 55% value addition, the data only points to 14%. He said the numbers were up for discussion, but remarked such incidence fuels the negative perception on the industry that it is holding export proceeds outside the country. He said some reports suggest that over $ 35 billion have been held outside over the past 15 years.

"This is where perception in the industry is pretty bad. They say exporters are keeping money abroad. Come clean that you are not doing that. Be transparent. We are struggling to finance essential items for people and even for you to operate. We have facilitated all your requests during the crises. Your industry and other industries all use the same public resources.

"Taxation must be fair. I appreciate your target of $ 8 billion, but that is also because you want to advance your business and earn more. Countries like Vietnam and Bangladesh are growing not because of less tax, but because of ease of doing business and reforms that have been key to reduce costs," the Governor explained.