Tells Daily FT-CICRA 8th Annual Cyber Security Summit that Sri Lanka could be a destination that promotes greater cyber security policies and practices
---
By Hiyal Biyagamage
---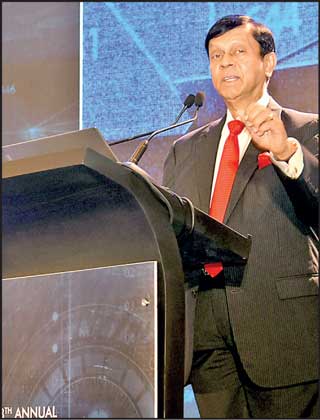 CB Governor Ajith Nivard Cabraal
---
Central Bank Governor Ajith Nivard Cabraal on Tuesday stressed that while many Sri Lankan businesses were coming to understand the need for data security, few appreciated the importance of data integrity.
Delivering the opening remarks as the chief guest at the 8th Annual Cyber Security Summit organised by the Daily FT and CICRA Holdings Ltd. at Waters Edge, Cabraal emphasised on the importance of Sri Lankan businesses protecting data and ensuring that their information systems were secure.

"In the days of GDPR and increasing privacy laws, the easiest way to end up on the wrong side of government regulation is to have inaccurate data. A simple mistake can cause everything from minor administrative headaches to significant fines and setbacks. After all, this is the era of big data, and it's high time for businesses to learn how to keep their data safe and accurate. This is why data integrity is vitally important today; not because it can improve the traceability and recoverability of information but also ensures that your business maintains an accurate, consistent data security policy.

"In today's business landscape, organisations are struggling to protect their information. Information is stored in various places, and sometimes, others can access it without you knowing. That is what makes it all the more dangerous as well as all the more challenging. In the next few years, we will have to make sure that our systems are secure," said Cabraal.

He mentioned that he was one of the first few people to be associated with cyber security in 2011 when it was introduced as a novel concept in Sri Lanka and he believes the country has come a long way as a profession and a concept. However, he said the next few years would be tougher with the impact of remote work, data privacy as a discipline, the emergence of digital currencies and the continued rise of artificial intelligence (AI).

"As the Central Bank, we have a deeper responsibility to ensure the safeguarding of all information and the systems that are used for payment-related activities. So our work is cut out. I believe in the next few years, it will get even harder.

"Today, we have robots, we have artificial intelligence, and we can even have digital currencies. These elements are causing serious challenges to the established world, and in that sense, we must make sure that what we have is safeguarded and that there is a greater understanding of these concepts so that they can all work together. They say that the strength of a chain is the strength of the weakest link, so you only need one weak link to penetrate a system. One system error is an opportunity for entry by someone. This could be all that is needed for a massive data breach, so data integrity needs to be ensured and to do that today and in the coming years is going to be a tough challenge," stressed Cabraal.

The Governor also said that Sri Lanka could be a destination that promotes greater cyber security policies and practices. However, industry professionals have a significant role to play to ensure the proper groundwork is completed, he added.

"We have conveniences, but those come at a cost. When a duck is moving on a pond, it has a seamless journey, but underneath, there is huge volatility of the paddling of its feet. So, in the same way, many involved in data security and ensuring the integrity of the data have a very challenging role. Not only are you interested in ensuring that the surface looks good, but you have to ensure that all the steps that are being taken underneath the surface are also designed to ensure the integrity of the system. We are keen to ensure that Sri Lanka is established as a destination that provides that security and integrity. In that sense, your work is greatly appreciated by us because what you do will ensure that Sri Lanka can face these myriad data security challenges with a lot of confidence as we go forward."

Cabraal also stressed that all must embrace the cyber security concept positively to ensure that Sri Lanka moved ahead in this journey together.

The full-day Summit featured several international and local experts who shared key insights on how Sri Lankan organisations in the public and private sector could move towards a secure new normal in the use of technology.

The Day Conference had innovative and informative sessions, including discussions on banking, payments and settlements, digital currencies, network security standards and compliance, and 5G technology and its security concerns. A CEO Forum followed specifically focussing on why cyber security should be a boardroom discussion.

Global leader in payments Visa and technology giant Huawei were the Strategic Partners. Banking partner was NDB and Official payment network was LankaPay, whilst the creative partner was Triad.