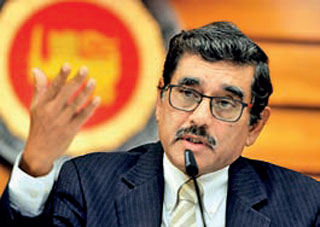 Central Bank Governor Dr. Nandalal Weerasinghe
---
The Central Bank Governor Dr. Nandalal Weerasinghe yesterday revealed he will resign if the Executive and Legislature does not work together to urgently restore political stability critical for economic revival.

"The longer they take (to resolve), the deeper the country will go down the precipice economically and socially," Weerasinghe emphasised.

"Political stability is key to revive the economy. Today we don't have a Government, a Prime Minister, a Cabinet nor a Finance Minister. The Parliament is adjourned. The Executive and the Legislature must ensure political stability via constitutional means without further delay," the CBSL Chief told journalists. "Failure will mean the economic crisis will worsen further," added Dr. Weerasinghe who said the country has usable foreign reserves for only less than a week's imports.

He said that as an independent, transparent, and responsible organisation, the Central Bank can only caution the political leaders and the public and it is the responsibility of the latter to ensure socio-political stability.
Weerasinghe who accepted the CBSL Governor role a month ago revealed that he will resign if the situation does not improve. "Without political stability the economy cannot be salvaged irrespective of who is the head of the Central Bank," he added.

The Governor said that since assuming office, he and the Treasury Secretary Mahinda Siriwardena had endeavoured to reduce the speed in which the economy was going down a precipice. The Central Bank implemented the tightest ever monetary policy by increasing policy rates by 7% whilst the Finance Ministry tightened cuts on unnecessary expenditure as well as gave the go ahead for upward price adjustments in fuel and LPG which were painful reforms.

Noting that soon after some of these measures' macro fundamentals began to improve apart from reduced power cuts and shorter queues for fuel and LPG, Dr. Weerasinghe said that violence on Monday followed by the resignation of the Prime Minister and the Cabinet reversed all gains and posed further pressure.

"The brakes are not working now," the CBSL Chief said whilst admitting that when he assumed office, he expected the political situation to improve and not worsen.

Weerasinghe warned that failure to ensure political stability could result in longer power cuts, and queues for fuel and LPG among other burdens.

On Tuesday the main Opposition Samagi Jana Balawegaya Leader and three MPs met the CBSL Governor and Treasury Secretary to get an update on the state of the economy. Previously, leaders of eight political parties had met him as well, Weerasinghe revealed yesterday.

Whilst condemning the unleashing of violence on Monday, the CBSL Chief said in a country when people take law into their hands, there cannot be economic progress. In that context he said apart from political stability there must be law and order.

Dr. Weerasinghe also ruled out rumours that public servants won't be paid their salaries. The CBSL Chief said there is no rupee crisis but it was important to prioritise Government expenditure as well as boost tax revenue.