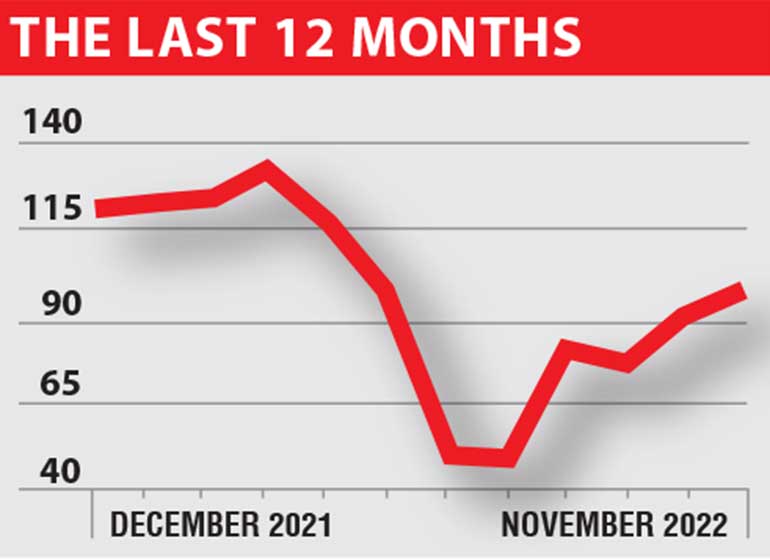 "A rise one more in the exclusive business barometer raises hope of better times," said business magazine LMD, in its latest edition.

LMD continued: "The implications of Budget 2023 will occupy the minds of corporates as the new tax rates and policies kick in. But there's been a sense of optimism in recent times, even as people acknowledge and realise that difficult times lie ahead for everyone, if the national economy is to recover and stabilise."
"It is a relief to note that once again, the LMD-NielsenIQ Business Confidence Index (BCI) has climbed another nine basis points – from 89 in October to 98 a month later," it added.

NielsenIQ Director – Consumer Insights Therica Miyanadeniya explained: "As we approach the end of 2022, which was a turbulent year, expectations of better things to come in 2023 are high on the radar."

LMD noted: "The barometer of business sentiment is now only 11 basis points shy of where it stood a year ago (109) and it is hoped the new year will see this cautious optimism intact. That said, the index is still well below March's 132, the highest so far this year despite the advent of fuel shortages, power outages and the rupee's demise."

A spokesperson for LMD said: "The jury is out on the pros and cons of Budget 2023, and we will know the verdict when next month's survey gets underway in December – and we report on its results in the January edition of LMD."

"And there are external risks such as the war in Ukraine and the prospect of a world recession in particular. Internally, the outcome of ongoing debt restructuring talks, coupled with renewed calls for an election by opposition forces, could lead to political instability in the new year," she added.

Media Services, LMD's publisher, said the December edition of the pioneering magazine will be released shortly, along with its digital version which will be shared on WhatsApp and the publisher's social media platforms (for the full BCI report, visit www.LMD.lk).