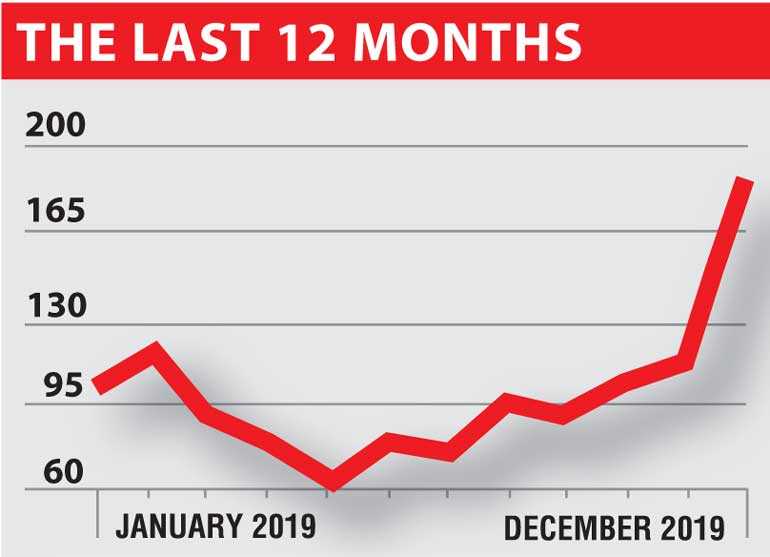 The LMD-Nielsen Business Confidence Index (BCI) recorded a massive increase of 75 basis points to register 186 in December – the highest it has been since September 2015, according to LMD. As a result, the BCI is almost twice as high as its 12-month average of 99 and within reach of its all-time high of 204, the magazine notes.

Nielsen's Director – Consumer Insights Therica Miyanadeniya says in the latest edition of LMD: "This unprecedented increase has come in the wake of the new president taking the reins and the policies implemented so far."

She adds: "The tax concessions, reduction of VAT from 15% to 8%, lower Government expenditure, as well as other visible changes, seem to have endeared the new Government to both businesspeople and consumers."

Similarly, a survey respondent explains that "with the new Government and President, we hope the business climate will get better in the coming months". LMD notes that this sentiment is likely to bolster confidence among businesspeople and investors in the short term.

A spokesperson for the leading business magazine observes that "the positivity in the lead-up to the presidential poll has paved the way for the BCI to surge in the wake of recent business and investor friendly initiatives announced by the new administration".

As for the near-term future of the index, she echoes Miyanadeniya's view that its direction will depend on developments leading up to the general election, adding that "it's unlikely business confidence will wane in the short term".

Media Services, which publishes LMD, says the latest edition of the magazine has been released to leading bookstores and supermarkets. (for the full BCI report, visit www.LMD.lk).