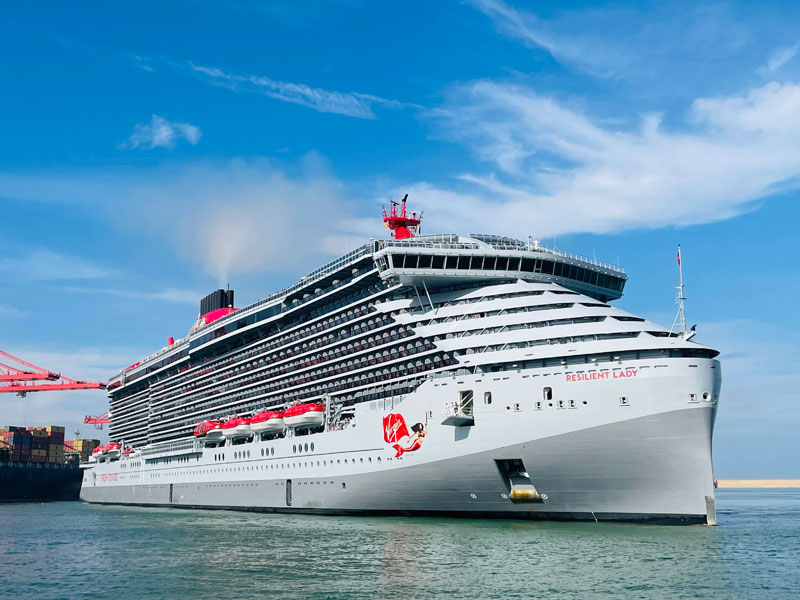 Next two months company will be catering to nearly 10,000 more cruise passengers from multiple operators
---
In a monumental stride for Sri Lanka's tourism sector, Aitken Spence Travels announced the arrival of Sir Richard Branson's Virgin Voyages' newest ship, the Resilient Lady, making her maiden call to Asia and to the Colombo Harbour on 13 November 2023.

The Company said this historic event marks a significant contribution to the global recognition and confidence of Sri Lanka's tourism industry.
The Resilient Lady, a marvel of modern maritime engineering began her maiden voyage in May 2023, and boasts a passenger capacity of 2,770 passengers across 1,404 cabins and suites. Inspired by super yacht design, the vessel exudes glamour and elegance, with interiors crafted by world-renowned architects and designers such as, Tom Dixon and Concerte Amsterdam.

Aitken Spence Travels promises to unveil the diverse tapestry of Sri Lanka›s landscapes and culture during the shore excursions of The Resilient Lady. The team has drawn up exciting excursions to provide visitors with extraordinary and uniquely Sri Lankan experiences for the guests when they are on land.

Aitken Spence Travels Managing Director Nalin Jayasundera said: 'This maiden call by Virgin Voyages is one of many international cruise liners lined up to grace Sri Lanka›s ports, Colombo, Hambantota and Trincomalee during this year›s cruise season."

'In the next two months we will be catering to nearly 10,000 cruise passengers visiting the country through some of the well-known cruise ships such as, Azamara Journey, Marella Discovery 2, Mein Schiff 5 and many more that hold a significant place in our hearts. We are happy to say that the first turnaround operation for the season will also be handled commencing November, bringing in three flights to Colombo for disembarking cruise passengers. Further, another new cruise ship making its maiden voyage to the Sri Lankan shores in December will also have a turnaround operation in Male, Maldives," added Jayasundera.

The positive effects of these cruise calls are far-reaching, benefiting a wide spectrum of stakeholders, from transporters and hoteliers to national parks, jeep service providers, excursion providers, cultural show artistes, guides, and more.

As the leading DMC in Sri Lanka, Aitken Spence Travels said it is committed and dedicated to promoting the destination and contributing to the development of the industry. It envisions a brighter future for Sri Lanka›s tourism industry and would continue to play an active role in achieving that vision.

"We are confident and grateful to the Government, Immigration and Emigration Department Sri Lanka, the Ports Authority, Sri Lanka Customs, Sri Lanka Tourism Promotion Bureau, the Tri forces and the Port Agency Services and all other stakeholders who help us to help our clients get the best guest experience in Sri Lanka," Aitken Spence Travels added.