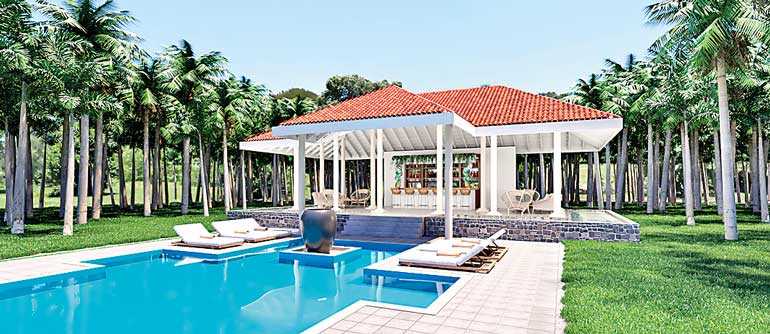 BoI says agreement shows renewed foreign investor confidence in SL
First phase of resort named The Plantation Koggala to be completed in 18 months
Villas available for private use to be placed in a resort rental program
Investors say 50% of villas already sold
The Board of Investment (BoI) has signed an agreement with Sundara Ltd. on a luxury resort project valued at over $ 4.5 million, in a deal which the State investment agency said showed confidence in the resilience of Sri Lanka's tourism despite the post-Easter attack slump.

Valued at approximately Rs. 792 million, the project titled 'The Plantation Luxury Villas in Koggala' is considered a strong vote of confidence in Sri Lanka's tourism sector by a foreign investor and developer known for internationally-renowned luxury resort projects, the BoI said in a statement.

The Plantation Luxury Villas will be built within the lush tropical interiors of Sri Lanka's southern coast, in a sleepy town best known for producing the country's most prolific author in Martin Wickremasinghe.

The view from The Plantation's elevated vantage point is spectacular – a peaceful tropical garden leads the way to the sight of the Koggala Lake streaming through the soothing green vistas of paddy fields and mountains as far as the eye can see. Within is an ode to its lush exteriors.

The Plantation was designed by celebrated Sri Lankan architect Manjula Kalhara. Under Manjula's practiced hand and signature style, The Plantation is an architecturally stunning tropical sanctuary with 14 exclusive one and two-bedroom pool residences sized from 1204-2650 square meters, replete with all the indulgences of a luxury resort.

The first phase of The Plantation's construction is expected to be completed within a period of 18 months. The property developer Sundara Ltd. is the name behind The Heritage Café and Bistro at the UNESCO World Heritage site Galle Fort.

With this investment, founders Dale Rennie and Sabrina Van Cleef Ault are complementing a portfolio of successful developments around the world. Dale, following a 26-year career in the entertainment industry, has the award-winning ultra-luxury cliff front property Villa Anugrah in Bali, Indonesia to his name, while his wife and business-partner Sabrina brings an illustrious 15 years of experience in entertainment and F&B. Sabrina is the original co-founder and Creative Director of the iconic uber luxury nightclub brand Panagaea, the highest earning property of its kind in the world.

"Sri Lanka is our home now, and despite recent events we have always felt absolutely safe and looked after here," said Dale and Sabrina on their investment. "We want our investors and visitors to feel the same way. This country's natural beauty is truly stunning, and our property in Koggala perfectly encapsulates the mini treasure trove of wonders you can find here in Sri Lanka – mountains, paddy fields and a perfect beach not too far away. It is an absolute pleasure to take the first concrete step forward on this project."

The investment reflected a strong and steady increase in investment for one of Sri Lanka's most promising sectors, said BOI Chairman Mangala Yapa. "Tourism has been thriving for the last decade – there is no other way to describe it. The sector is certainly strong enough to bounce back from setbacks, and we are very pleased to have the confidence of two seasoned investors and developers like Dale and Sabrina. They have our full support; Sri Lanka remains as ready and open to investment as ever."

The villas, once completed, may be purchased for private use or placed in the resort rental program for guaranteed 7% per annum returns. Over 50% of the property has already been snapped up by market-savvy investors, said the investors.