At intra-day peak of Rs. 773.25 NIFL surpassed market value of CTC and JKH
On erratic day of fluctuations, share price dipped to a low of Rs. 465 before closing up by 12% at Rs. 694.75
SEC says evaluating manner in which transactions have taken place, trading patterns and behaviour of investors
---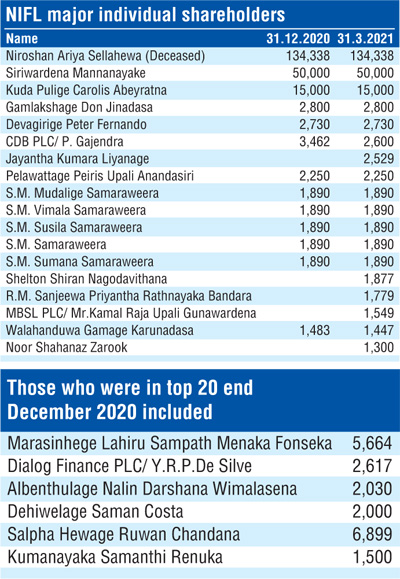 The bizarre rise of LOLC Development Finance PLC (NIFL) continued yesterday, at one point surpassing market value of both CTC and JKH before settling lower – yet up by 12% – as the Securities and Exchange Commission (SEC) sought further information from the Colombo Stock Exchange (CSE).
NIFL opened the day with a jump to Rs. 630 from Tuesday's close of Rs. 618.75. Its intra-day peak was a whopping Rs. 773.25, but it also dipped to a low of Rs. 465 before recovering to close at Rs. 694.75, up by Rs. 76 or 12%.

At Rs. 773.25, NIFL's market capitalisation was Rs. 184 billion, above Ceylon Tobacco's Rs. 178.8 billion and John Keells Holdings' Rs. 178.4 billion. However, it finished the day with a market capitalisation of Rs. 165.3 billion, far higher than some of the stronger counters such as Commercial Bank.

Around 34,922 shares (highest for a day in recent weeks) changed hands via 1,256 trades generating a turnover of Rs. 24 million.

With the stock price soaring by over 750% since its May closing of Rs. 73, the SEC said it was looking into the trading pattern and has sought more information from the CSE.

"We have observed the unusual price movement of this share and we have called for information from the CSE," SEC's Director External Relations and Capital Market Education/ Media Spokesman Tushara Jayaratne said.

"The SEC too is evaluating the manner in which transactions have taken place. We are analysing the trading patterns and behavior of investors."

The SEC has also observed individuals on some social media platforms promoting this share.

"We are presently trying to find out as to who is involved in this process. If we find any market malpractice, we will take stern action against those involved," Jayaratne said.

The SEC also said it had not come under any pressure but that investigating the sudden surge in the price of stocks comes under its daily oversight.

Some analysts were expecting the SEC and the CSE to suspend trading of NIFL yesterday, as investors were disgruntled over the bizarre rise, something that has occurred purely on speculation of a select few.

The NIFL stock is highly illiquid since the public holding is just 0.11% held by 243 shareholders. LOLC Group controls the rest.

A Daily FT analysis of the published top 20 shareholdings didn't reveal any suspicion or notable players in the market. However, both the SEC and CSE have access to the latest traders of shares.

Those who sold out by end-March may be regretting, whilst those holding on to NIFL shares have seen their net worth skyrocket overnight.

Following a CSE query on Monday, NIFL said there was no undisclosed price sensitive information being withheld by the company.

"We presume that the year-end performance of the Company and that of the LOLC Group may have led to speculation in the market, which would have resulted in the unusual trading activities in the securities of the company," NIFL Chairman Kapila Jayawardena said in response to the CSE inquiry.