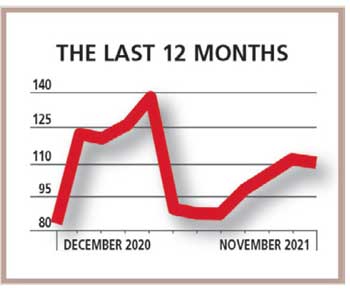 Following three consecutive months of increases, the results of the latest LMD-Nielsen Business Confidence Index (BCI) survey – which was conducted before Budget 2022 was presented in Parliament – registered a slight decline of two basis points to 109 in November.

However, LMD says this marks an improvement compared to where the index stood a year ago (91) and places it three points above the 12-month average.

NielsenIQ's Director – Consumer Insights Therica Miyanadeniya explains that "the COVID-19 situation has abated, and the country has finally opened up with provincial travel restrictions lifted and schools also opening".

Miyanadeniya continues: "With the Budget proposals not offering any concessions for either segment, it is likely that both the BCI and CCI (Consumer Confidence Index) will either stay the same or decline once more."

Meanwhile, a spokesperson for LMD notes that "with concerns being raised about the Government's approach to meeting Budget 2022's revenue targets, as well as the economic uncertainties on multiple fronts and fears about another COVID-19 wave, it's unlikely that business confidence will see a drastic improvement unless these challenges are addressed".

"And given the reactions of chambers of commerce and businesspeople in general, the Budget proposals are likely to dampen confidence in the near term at least," she adds.

According to Media Services, the latest edition of LMD will be released shortly while its digital version is available on WhatsApp and its social media platforms (for the full BCI report, visit the LMD website).