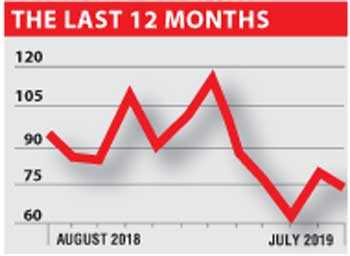 The LMD-Nielsen Business Confidence Index (BCI) fell by seven basis points to 74 in July, following an increase of 19 points in the preceding month. According to LMD, this places the barometer of business sentiment below its 12-month average of 89 and well below its all-time average of 127.

In the latest issue of the magazine, Nielsen's Managing Director Sharang Pant observes that "the repercussions of the Easter Sunday bombingscontinue to be on people's minds and the country has already begun preparing for the presidential election due at the end of the year."

Furthermore, he points out that "the uncertainty around the result of the [forthcoming] election is reflected in business sentiment". To this end, the pioneering business magazine reports that political uncertainty is cited as the main national concern, followed by the economy and fears that 'ethnic clashes' could flare up at any point.

Meanwhile, taxes are highlighted among the major concerns in corporate circles.

A spokesperson for LMD notes that last month's reversal in the four month downtrend in sentiment was "short-lived with the state of disarray dominating the landscape of what feels like a heightened state of emergency".

In addition, she states: "Barring the introduction of any real confidence building measures by the powers that be, an improvement in sentiment seems unlikely."

The publisher of LMD, Media Services, said the latest edition of the magazine was released to leading bookstores and supermarkets on 2 August (for the full BCI report, visit www.LMD.lk).