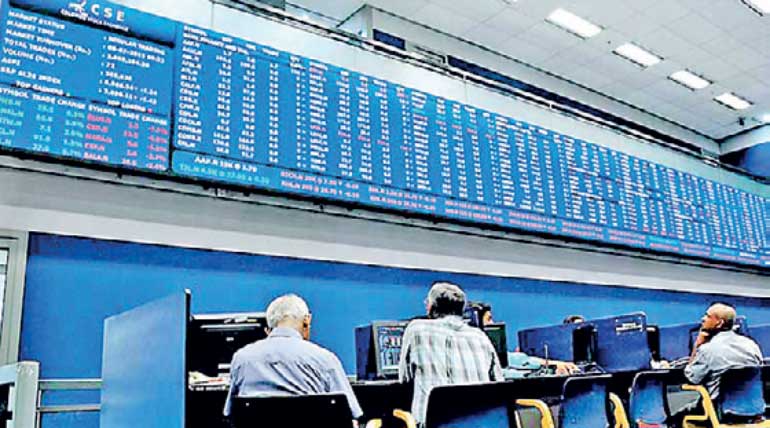 The bear run at the Colombo stock market continued yesterday with low volume but improved turnover and net foreign inflow.

Both indices lost over 0.5% and turnover was Rs. 1.2 billion involving 36 million shares.

Asia Securities said the market witnessed some volatility during the session while activity levels remained moderate. The ASPI opened higher to reach 7,861 before falling to a low of 7,695 and recovering to 7,823.

Following this, the index moved within the range of 7,733-7,796 during the remainder of the session. LIOC (-8 points), CARS (-6 points) and VONE (-6 points) were the top negative contributors to the ASPI. Turnover was helped by a substantial contribution from crossings in CDB and JKH. These counters recorded the highest turnover during the session followed by LIOC and EXPO.

Market breadth remained negative with 88 counters up and 105 counters closing with losses. Asia also said net foreign inflow was Rs. 36.9 million with buying most in HHL at Rs. 17.9 million and LOFC seeing most selling at Rs. 0.6 million.

First Capital said the ASPI continued to erode for the sixth straight session as selling pressure mounted among investors in the absence of a clear direction on domestic debt restructuring and IMF Board-Level Agreement which is anticipated to be delayed up to 23 February as China and India are yet to pass a verdict on debt restructuring talks.

The Index plunged to an intra-day low of 7,694 during the initial hour of trading as investors resorted to booking profits. Subsequently, index picked up while EXPO reversed positively after falling to an intraday low of Rs. 116 amidst resurfaced buying interest. However, the index failed to hold the gaining momentum and closed in the red at 7,777 losing 41 points.

Turnover was led by the Capital Goods sector (31%) and Diversified Financials sector (18%). Moreover, CDB witnessed a 1.3% (0.8 million shares) stake change at Rs. 200 per share through an off-board transaction following a stake change of 1.5% last Friday.