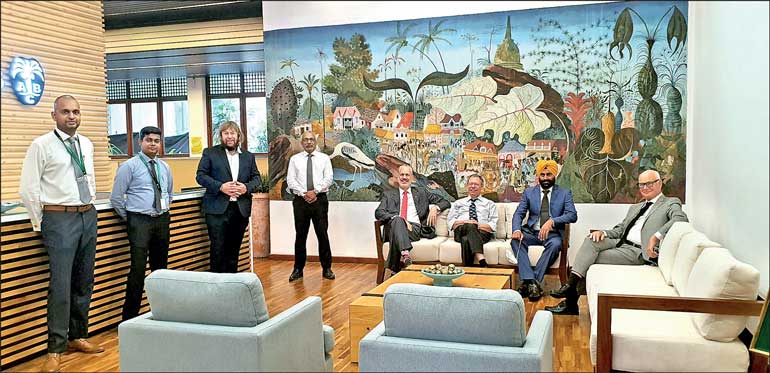 The Swiss experts with Baurs MD/CEO Rolf Blaser and Deputy MD/Director – Agriculture Janaka Gunasekara at the Baurs iconic colonial corporate building in Fort
---
Establishes dialogue with leading agri institutions across the world soon after country's announcement to immediately ban chemical fertilisers and pesticides
Contracts 2 renowned organic agriculture research institutes FiBL and HAFL in Switzerland
Expert team completes 10-day diverse study visit to Sri Lanka
---
A. Baur & Co. Ltd. yesterday announced that it would share scientific and practical solutions for the country's farming industry to successfully master the conversion from conventional to organic, backed by scientific evidence and sound knowledge drawing from both professional and practical experiences.

The expert team comprising senior scientists and researchers from the Research Institute of Organic Agriculture (FiBL) and School of Agricultural, Forest and Food Sciences (HAFL) who were on a 10-day visit to the country earlier this Month is currently conducting further in-depth analysis and evaluations. The purpose is to support Sri Lanka's vision and aspirations to expand its current 2.5% share in organic agriculture and move forward to holistically embrace a healthy organic nation.

A Baur & Co. Ltd. Managing Director/CEO Rolf Blaser the brainchild behind this initiative, commented: "We are proud to have taken proactive steps towards the fertiliser challenge in Sri Lanka. We tasked an expert team from Switzerland which is home for some of the prestigious research institutions in organic agriculture for a diverse study across the island.

"The experts are presently coordinating their efforts together with other organisations with domain knowledge on the subject matter including locally available academia and practical expertise. We at Baurs are continuously engaging with the experts to put together a well-informed plan for the sector and country in the next few weeks."

The expert team discussed with senior officials from various institutions such as Department of Agriculture, UoP's Faculty of Agriculture, NIFS, RRISL, CRI, CEOA, Ministry of Plantation, MoSTR, organic fertiliser state secretaries, IFOAM, GIZ Sri Lanka, SLCARP, and local EU representative.

They also observed sites and facilities that are influencing factors in organic agriculture, such as Kerawalapitiya waste management park, organic fertiliser processors, Dambulla vegetable market, Manning Market and Fish Market, HTS Hidellana Tea Factory, Hotel Waste Management System at the Grand Hotel, Lake Serenity organic tea plantation, and a poultry farm in Ganemulla, including visits to both conventional and organic farmer communities across Puttalam, Anuradhapura, Gampaha, and Ratnapura.

Every visit during their study is earmarked as crucial to understand the country's present agriculture landscape and all the other related factors in the entire ecosystem. The experts were able to gather a significant amount of scientific and technical data during their investigations. The numerous dialogues, interactions and knowledge-sharing sessions with diverse stakeholders, all of whom play an equally important role in achieving this conversion, adds immensely towards finding and overcoming challenges.

Whilst in Sri Lanka, the experts also shared insightful presentations during a knowledge-sharing session held at the Baurs Fertiliser Factory (CMW) in Kelaniya followed by a hands-on training in composting and organic farming during their visit to the Baurs' site in Anuradhapura.

The team comprised Prof. Dr. Christoph Studer, professor of natural resources management at HAFL, Dr. Jacques G Fuchs, senior scientist in plant pathology and soil quality at FiBL, Dr. Gurbir S Bhullar, senior scientist in tropical agroecosystems at HAFL, and Paul van den Berge, senior consultant at FiBL.