Assures job security, no pay cuts and sends essential goodies, but urges staff to take all steps to conserve cash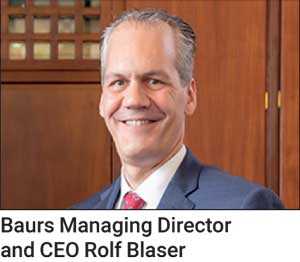 Baur and Company is apparently not following the herd, terming some moves as 'premature,' and has instead assured job security and no pay cuts to its staff.

Baurs Managing Director and CEO Rolf Blaser in a memo to staff has said the current economy was in a very challenging position and he was given to understand that Lankan companies were terminating employees or cutting salaries to cope with the tense situation.

"We at Baurs are of the opinion that such drastic measures are premature and not in the spirit of how one would treat one's family. We also stay committed to our priorities: 1) workforce protection, 2) supply chain stabilisation, 3) customer engagement," Blaser has emphasised.

Despite the turmoil, the 1897-established Baurs will also pay the 2019 bonuses in April as per individual performances and earlier commitment.

Baurs has extensive interests in agriculture, healthcare, consumer, and air services among others.

Despite this gesture, the Baurs MD/CEO however urged staff not to be misled by the company's generosity. Staff was told that customers were delaying payments, sometimes misusing the current situation as an excuse. The Government outstanding subsidy and State Pharmaceutical Corporation are reaching the highest-ever levels.

"Cash is king at a time of crisis and everything needs to be done to look both short-term and long-term at the financial health of our organisation," Blaser has told the team at Baurs and emphasised they should do whatever they could to conserve cash, which was going to be critical, and would determine the wheat from the chaff in unpredictable times ahead.

Baurs has also given a special relief gift pack of essentials to the staff, thereby further easing their worries. "We hope that you will appreciate our gesture for your efforts and commitment towards our Baurs family," MD and CEO Blaser has added.