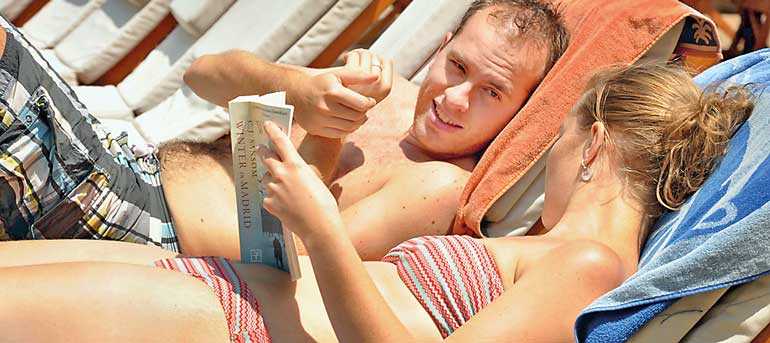 Top level meeting makes progress to reach across the board banking sector support for Easter Sunday terror attack battered travel and tourism businesses
Moratorium to be extended to employee loans as well
Central Bank to issue fresh directive with greater clarity whilst ensuring banking sector stability
A more convinced and supportive effort by banks to help Easter Sunday terror attacks battered travel and tourism industry is likely following a top-level progressive meeting yesterday chaired by Finance Minister Mangala Samaraweera.

Given the seriousness of the crisis faced by the travel and tourism industry, yesterday's meeting saw attendance of Tourism Minister John Amaratunga, State Minister of Finance Eran Wickramaratne, Economic Reforms and Public Distribution Minister Dr. Harsha de Silva, Treasury Secretary Dr. H.S. Samaratunga, Central Bank Governor Dr. Indrajit Coomaraswamy, Bankers Association representatives among others.

Most officials and bankers present were tight-lipped about the deliberations and the outcomes of the meeting as the Finance Ministry and Central Bank are likely to make an official statement either today or tomorrow. However the Daily FT learns that at the meeting the bankers had explained their stand in extending support to the impacted businesses.
Whilst banks don't prefer existing lending to travel and tourism businesses going to default or Non Performing, hence will support the moratorium initiative of the Government, the financial institutions also carry the responsibility of safeguarding public deposits. The banks have also clarified that as per the Central Bank directive performing loans will be subject to the one-year moratorium whilst ongoing legal and recovery action on past defaults will continue.

However, it was stressed upon the banks that the 21 April Easter Sunday terror attacks on three churches and an equal number of five star hotels in the city killing nearly 260 including 45 tourists and injuring over 500 were "unprecedented shocks" and the country and in this case banking sector has to "deal with it". Banks have the capacity hence must come forward proactively to help their customers at this hour of crisis, was the message to the bankers.

The contention among the travel and tourism industry is banks being directed by the Central Bank to adopt a case-by-case approach in granting the moratorium. The industry wants across the board blanket moratorium as discussed during separate meetings with President Maithripala Sirisena, Prime Minister Ranil Wickremesinghe and seven-member Cabinet-appointed Sub-Committee tasked to spearhead revival of tourism post Easter Sunday mayhem.

It had been agreed at yesterday's meeting that all businesses registered with the Sri Lanka Tourism Development Authority, various industry, trade associations and chambers of commerce will qualify for the moratorium. Those who are not but have local authority approval will be considered with a provisional registration.

An apparent breakthrough at the meeting was near consensus to extend the moratorium to loans of travel and tourism sector employees. This was a key recommendation from the industry as with near 70% dip in tourist arrivals and less local businesses in hotels and restaurants, the otherwise considerable service charge earned by employees is at stake. Whilst employees' basic salary goes to service loans or leases, their livelihood depends on the amount of service charge earnings.

Extending the Government's moratorium to Non-Banking Financial Institutions such as finance companies from which the businesses and employees have leases was also discussed at yesterday's meeting. Sources said that a positive outcome was expected.

Premium transport service providers to tourism sector affected by the Easter Sunday disaster are also seeking a similar moratorium on their leases of luxury cars used for the movement of tourists.

With 2.3 million arrivals, the tourism industry last year earned $ 4.4 billion in foreign exchange. It employs 500,000 directly, providing a livelihood for around two million people.

The Cabinet last week approved a one-year moratorium of capital and interest repayment of all registered travel and tourism businesses' performing loans till 31 March 2020 in respect of outstanding credit facilities as at 18 April 2010. The banks shall convert the capital and interest falling due during the moratorium period into a term loan which shall be recovered from July 2020 onwards. A concessionary rate of interest may be charged for this facility. The rate hasn't been specified yet.

Banks on their part can maintain non-performing loans in the same category for classification and provisioning purpose during the moratorium and shall waive off the penal interest to be charged on non-performing loans during the period.

To tide off cashflow issues, the Government also announced all travel and tourism businesses could get a two-year working capital loan based on turnover at a concessionary interest rate of 3.4%. This is following the Treasury offering a 75% subsidy.

For a travel or tourism business with a turnover of less than Rs. 100 million, the maximum working capital available under this scheme is Rs. 20 million. Other slabs include Rs. 50 million for those with turnover of Rs. 100-250 million, Rs. 150 million for those with Rs. 250-750 million turnover, and Rs. 250 million for turnovers above Rs. 750 million.

Another relief is VAT for the industry being reduced to 5% from 15% until 31 March 2020. Last year VAT collection from the industry was Rs. 18 billion.

The Cabinet-appointed Sub-Committee for revival of tourism is led by Tourism Minister John Amaratunga and comprises Finance Minister Mangala Samaraweera; International Trade and Development Strategies Minister Malik Samarawickrama; Transport and Civil Aviation Minister Arjuna Ranatunga; Internal and Home Affairs Minister Vajira Abeywardena; Minister of Primary Industries Daya Gamage and Non-Cabinet Minister of Economic Reforms and Public Distribution Dr. Harsha de Silva.